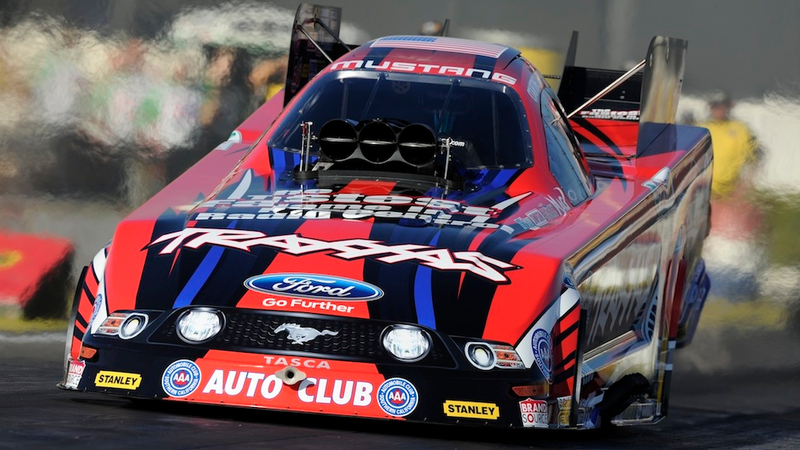 This Labor Day weekend is the NHRA Chevrolet Performance U.S. Nationals at Lucas Oil Raceway. For those of you unfamiliar with drag racing, this is the grand-daddy of the sport. The event runs till Monday so you still have time to make the trek to the track.
The Roadtrippers team was fortunate enough to be in attendance last night for the "night of fire," and if you've never been, let us tell you why you should go.
Top Fuel Funny Cars and Dragsters
When your car's fuel is so intense the crew wears gas masks while they tune it, you are the craziest, bravest, most insane person on the planet. A nitromethane powered dragster is like a contained bomb exploding into several thousand horsepower. When a top fuel dragster or funny car makes a pass the sound and power are so intense fans literally feel it through their whole body. It is arguably the most intense event in all of spectator motor sports.
Free pit passes
Unlike other auto races, every fan gets a pit pass. Big stars such as John Force and Ron Capps cruise past you on scooters, and you can even watch them start the cars (until the Nitro burns your eyes so badly you run away. Seriously.) If you're into autographs there is no easier place to collect them. The level of access to the drivers and cars is almost unheard of at other mainstream auto racing events.
A thousand other reasons
The U.S. Nationals also draws hundreds of sportsman racers, pro-stockers, pro-stock motorcycles, vintage drag cars (Like the beauties above from Dynamat), and big name vendors. Ever wonder why drag racing always gets some airplay on the television? It's because people at home know just how intense it is to actually view in person. After just one night our eyes are still watery and our pulses are still a little higher than normal.
Join the club of race fans that have seen a top fuel car run. You'll never be the same.
(Cover photo courtesy of http://www.tourhendrickscounty.com/)
Racing fan of any kind? Plan your next trip to the track on Roadtrippers. Hit us up on Twitter and Facebook.