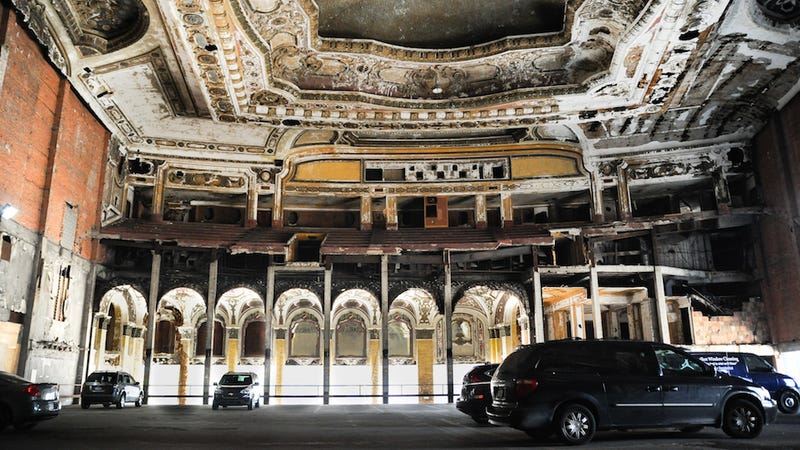 It's been a rough go for Detroit... abandoned buildings, bankruptcy, arson, and the list goes on, but the best example of how times have changed since the roaring 20s is the Michigan Theater. Once an example of Detroit's affluence, today it's a parking garage. But it is the most beautiful one in all of America.
Attached to the 13-story Michigan Building, the French Renaissance styled theater once sat over 4,000 and cost over $3.5 million dollars to build in the 1920s. Ironically the entire building was put on the market this past July for only $3 million dollars. (FYI that $3.5 equates to over $45 million in today's dollars) That's quite the downward spiral when you adjust for inflation.
After theater use ceased in the early 70s, Sam Hadous attempted to turn the space into a swanky "super club", but that folded quickly. By 1973 the theater had been turned into a rock concert venue, taking a heavy toll on the condition of the space. By the late 70s the building looked destined for destruction, except tearing it down would just damage the surrounding structures too badly.
The end result: In 1977 the Michigan Theater was turned into a 160 spot parking garage complete with the beautiful ceilings and parts of the original curtain still in place. It may be the only French Renaissance style parking garage in the world.
Photo Credits: Dan Austin/HistoricDetroit.org, Sister Snaps