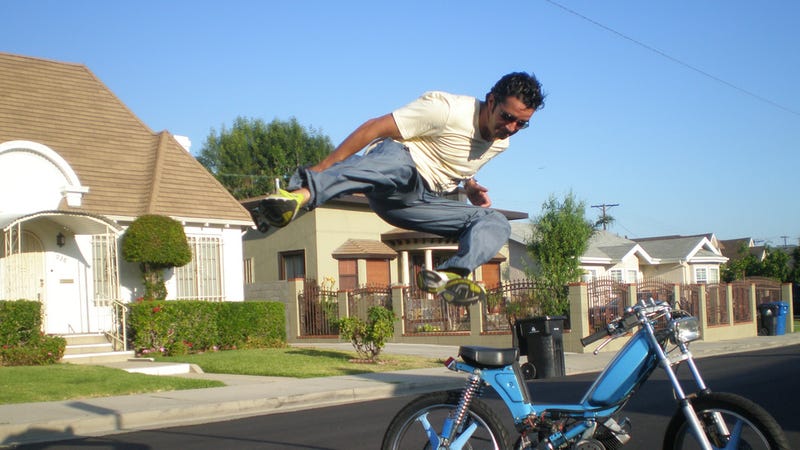 Similar to the biker gangs in Mad Max, there's a whole cult of moped-ers all across America, and starting August 30th, these die-hard moped enthusiasts will embark on the journey of a lifetime. The Pinball Run is a nine-day tour that's sure to annoy anyone trying to drive at full-speed along their route.
The tour begins at the end of this month in Portland, ME and finishes up all the way down south in Key West, Florida, where these moped-heads are sure to down enough margaritas that it'd make Jimmy Buffet blush. Traveling this journey in a car capable of speeds over 50 mph would be an audacious task, but completing it on a little half-bicycle sounds like complete torture on the ass and the nerves.
Why do such a bizarre and body-punishing tour? Creators of the event say:
The intention of this council is to host the most epic rally held in the history of motorized pedalcycles. Inspired by Cannonball Baker and the cross country races that followed, this transcontinental run is the new standard to test your building skills, abilities and endurance. Over fourteen states from Maine to Key West, the run will see the changing shoreline, capital, and lifestyles of the country.

99 years after Cannonball Baker completed his famous first ride, we will takeoff from Portland, Maine on August 30th 2013. En route to paradise every city with an active moped scene on the east coast lies in its path, establishing a national support network to keep these vintage machines moving. From evergreens to the Everglades this route is rich with America's history, ending in Key West with a flaming cat circus at sunset.
Now that makes us want a moped.
Out of sheer respect for these brave souls we've outlined the first day of their journey and added a stop or two that are must-sees along the way. Where else should they stop?
Moped not up to a trip this long? Plan a smaller tour for your moped, car, motorcycle, lawn mower, etc. on Roadtrippers. Hit us up on Twitter and Facebook.