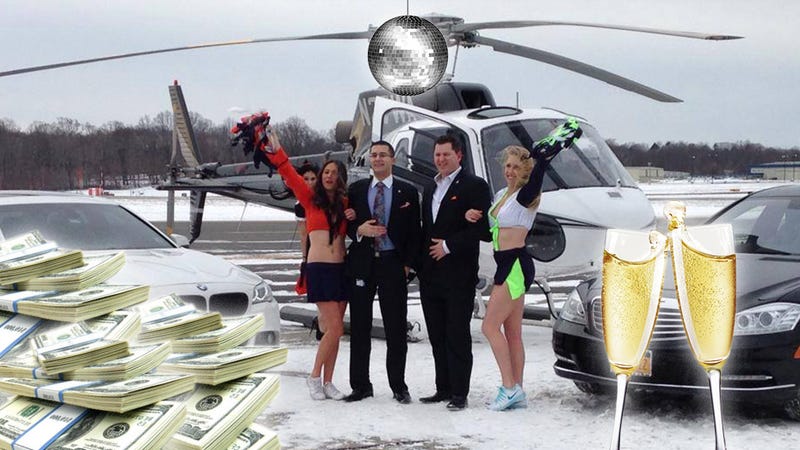 Traveling to the big game by private jet, private helicopter, or luxury car isn't cheap, but if you want to go over-the-top, and you do, why not use ALL THREE forms of transportation? A partnership between No Limit Air, Wings Air Helicopters and Safe Rides Unlimited is offering just such an insane package.
Starting at $100,000 (and going up to $500,000) you and some friends can get the "ultimate" travel experience beginning with a flight on a G650, complete with flight attendants dressed as your favorite team's cheerleaders (so classy). They'll pick you up anywhere in the world, hence the wide range in prices, and fly you to NYC.
While in the air celebrity chef Andy Choi will feed you and 16 people on nonstop legs of 7,000 nautical miles to ensure you have plenty of time to creep out the flight attendants/cheerleaders. From NYC you'll hop in a helicopter for a ride to the nearest helipad to the big game.
The last leg of the trip is to the game in a car, but not just any car… Either a Bentley or S550 (apparently the Bentley wasn't available for this photo shoot...). So what are you waiting for? Refinance the house and give them a call!
Prefer traveling like a normal member of society? Use Roadtrippers to plan your trips. Follow us on Twitter and Facebook.