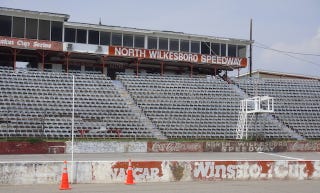 North Wilkesboro Speedway may be the best example of NASCAR then & now. Once known for Southern-style excitement, the most recent headlines about North Wilkesboro are the G-men busting a moonshine still behind the track in 2009 and short-lived comeback attempts in 2010 & 2011. Today, North Wilkesboro Speedway sits silently again.
Tucked into the hills of North Carolina, North Wilkesboro is often dubbed the "Capital of Moonshine," and North Wilkesboro Speedway was THE place to see bootleggers run their liquor cars against one another. As NASCAR blossomed owner Enoch Staley made modest attempts to update the track, but the track's humble seating capacity meant the track wasn't pulling in the same money nearby tracks such as Bristol did. When Staley passed away it spelled the end for North Wilkesboro Speedway. The new owners were more interested in the rights to a Cup race, not the track. The final NASCAR race came in 1996 with Jeff Gordon taking the checkered.
Since then the track has seen ups and downs and more than one attempt at making a comeback. The "Save the Speedway" group still actively fights for the sound of engines to once again grace the track, but in the past year there hasn't been much action.
Fans remember North Wilkesboro Speedway for it's up-close and personal views... Views so close you could see the drivers' faces. Drivers remember this place as one of the last old-school NASCAR tracks. No doubt, Richard Petty remembers a fan attacking him in victory lane in 1972 after he and Bobby Allison clashed on the track causing Allison to wreck.
Today glitz, glamour, and money are the staples of the sport, but fans and racers of North Wilkesboro Speedway remember the infield fights, the souped-up liquor cars, and the down-home Southern style of this now forgotten track. Help join the fight to see action once again by supporting the Save the Speedway campaign.
At the end of the day, someone at least turn it back into a moonshine still!
Check out the Roadtrippers' Racing Destinations for all still-open speedways across the US. Hit us up on Twitter and Facebook.