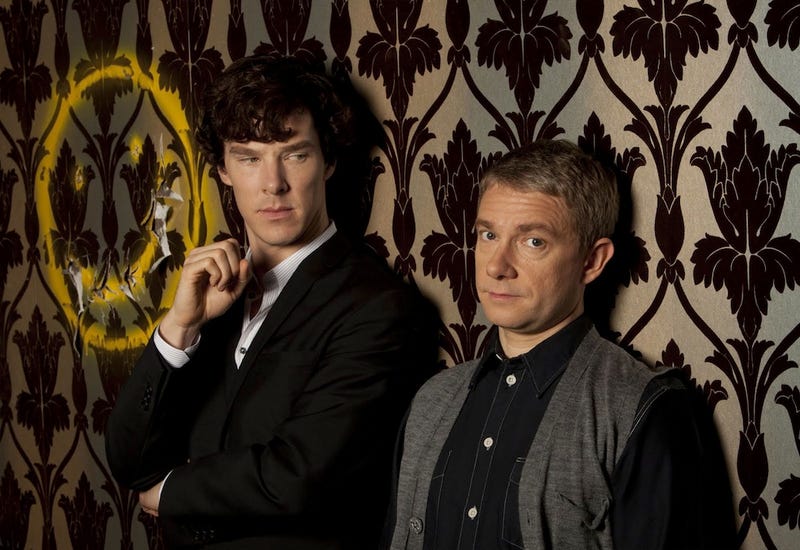 HOLY. CRAP. Attention Cumberbitches and fans of the BBC's most attractively-cast television series of all time! The very first (and only official) Sherlock convention is finally landing on our shores. I know, I know… just try to keep it together, alright!
If you've been living under a rock since 2010, you might not know that the boys of 221 B Baker Street have left quite an impression, and in the process have amassed an enormously massive (and loyal) fan base all around the world. Can you blame us?
The series, which stars tumblr's favorite "purple shirt of sex" wearing Sherlock (aka Benedict Cumberbatch), has left American fans wishing for more official Sherlock, well, anything. Luckily, the shows creators Steven Moffat and Mark Gatiss must have been listening, because this February an announcement was made about the first official Sherlock convention.
Specifics about the con have yet to be announced, leaving fans of the show hoping that certain guests, namely Cumberbatch and co-star Martin Freeman, will be announced soon. Fingers crossed. Until then we'll just have to wait patiently, while re-watching series 3 for the tenth time…not that waiting is anything Sherlock fans aren't used to.
Visit Geektown, USA to follow and get inspired by America's nerdiest destinations. Hit us up on Facebook and Twitter.