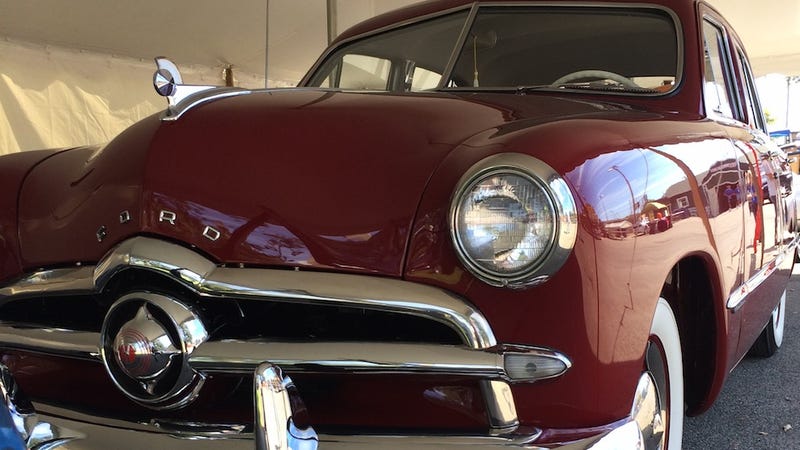 So everyone knows about James Dean's "Little Bastard" Porsche, but very few know about his first car. Don't worry, you still have time to see it at the James Dean Run in Fairmount, IN this weekend, as part of the Fairmount Museum Days celebration.
Fairmount is one of those small towns where everyone knows everyone, that is until the last weekend of September. The sleepy Quaker town of Fairmount transforms on this particular weekend into a town-wide festival full of great old cars and thousands of James Dean fans. The car show is the centerpiece of the weekend, but other events include a James Dean look-a-like contest, a town parade, and more rummage sales than you can shake a stick at.
For any true Dean fan, the highlight of the weekend has to be seeing the 1949 Ford James Dean drove to prom. Today this beauty is one of only two cars in existence that can credit James Dean as a driver. You'll also find a tractor from the farm he grew up on. This same tractor was featured in photo shoots with Dean.
Of course, if you're in town you should visit a few other James Dean places...
This relic housed the first stage James Dean ever performed on. Today it is a little worse for wear, but you can still pose for pictures in front of the school. You better get up there to see it soon as money is being raised to demolish one of Indiana's most endangered landmarks.
Fairmount Historical Society Museum
Here you'll find all the great James Dean artifacts such as his old motorcycle and much more. You'll also find memorabilia for Fairmount's other great star, Jim Davis, the creator of the lovable cat Garfield.
When fans are this passionate, it is only natural a place like the James Dean Gallery should pop up. Wander through tons of great pieces such as James Dean's leather jacket and lots of movie stuff.
Pay your respects to the legend at his gravesite. Ladies often kiss the tombstone, and everyone leaves a cigarette. Don't forget your smokes.
Old movie buff? Check out the Roadtrippers Film Spotting Guide for routes and filming locations to all your favorite movies. Hit us up on Twitter and Facebook.