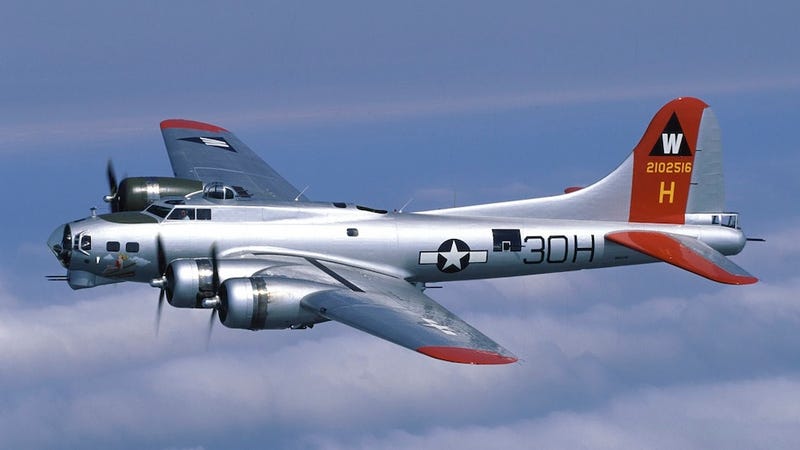 She's called the "Aluminum Overcast" and she's just one of a few remaining Boeing B-17 Flying Fortresses that survive today. Even though she never saw combat, she's one of the most recognizable examples of WWII military aviation. And she's currently offering once-in-a-lifetime flying tours.
The traveling B-17 bomber plane, currently on tour will be on display at various airports throughout the Midwest and East Coast throughout October for flight and ground tours.
The B-17 Flying Fortresses saw loads of action in Europe during WWII. Between 1935 and 1945, over 12,000 were produced, and nearly 5,000 were destroyed in combat missions. Today less than 100 remain and only 13 actually fly.
The B-17 bombers weren't pressurized so the temperature was pretty damn cold up there. The crewmen had to use oxygen tanks once they flew above 10,000 feet, and they wore heated lambskin coats to combat the freezing, minus-45 degree temperatures.
The Aluminum Overcast was delivered too late to be used in the war effort and was sold for "scrap" in 1946. After being saved from certain death and dismemberment, a group of investors hell-bent on preserving this beautiful aircraft purchased it in 1978. It was donated to the Experimental Aircraft Association (EAA) Aviation Foundation in 1983.
Aluminum Overcast proudly carries the colors of the 398th Bomb Group of World War II, which flew hundreds of missions over Nazi-held territory during the war. Aluminum Overcast commemorates B-17G #42-102515 which was shot down on its 34th combat mission over Le Manior, France, on August 13, 1944. Veterans of the 398th helped finance the bomber's restoration. [B17.org]
Complete Tour Schedule:
Purdue University Airport: Friday - Sunday, August 9-11, 2013
Gerald R. Ford International Airport: Friday - Sunday, August 16-18, 2013
Waukegan Regional Airport: August 20 - 21
Waukesha County Airport: August 23 - 2
Abraham Lincoln Capital Airport: August 30 - September 2
Lewis University Airport: September 6 - 8
Cincinnati Municipal Airport - Lunkin Field: September 13 - 15
Hartford-Brainard Airport: September 20 - 22
Lehigh Valley International Airport: September 27 - 29
Waterbury - Oxford Airport: October 4 - 6
Essex County Airport: October 11 - 13
Trenton Mercer Airport: October 15 - 16
---