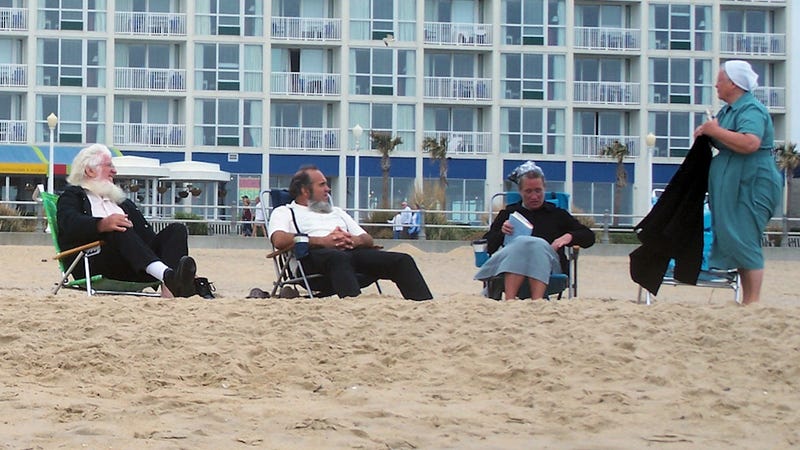 From families on vacation to retirees, Florida is synonymous with getting the heck out of cold weather. What you might not know is even the Amish flock to the Sunshine State when the cold winds blow. The little town of Pinecraft outside Sarasota, FL is the spring break hotspot for the Amish and Mennonite community.
A small number of Amish and Mennonite live in Pinecraft year-round, but hundreds show up every year on charter busses from states such as Ohio, Indiana, and Pennsylvania. (Flying is a no-no, but exceptions for the bus are made.) The Amish began widely permitting vacations nearly 60 years ago and apparently can't get enough of the sun in their beards.
A visit to Pinecraft isn't unlike most Amish communities. You'll see scores of people on bicycles and tricycles as well eat some great food whether it be at a local restaurant or one of the multiple cookouts and pie parties held throughout the year.
Amish in Pinecraft vacation much like we do: shuffleboard, beach volleyball, and walks along the boardwalk. Of course there are varying degrees of clothing worn from traditional Amish attire to the occasional modern t-shirt and swim trunks.
For a look inside Pinecraft and the Amish way of life (and vacationing) check out Katie Troyer's blog and picture books. Since the Amish don't usually care for being photographed, Katie's collection of photos is a rare glimpse inside this little vacation town.
Photo Credits:
Shuffleboard Photos: http://michaelhansonphotography.com/
Cover Photo: Jo Naylor