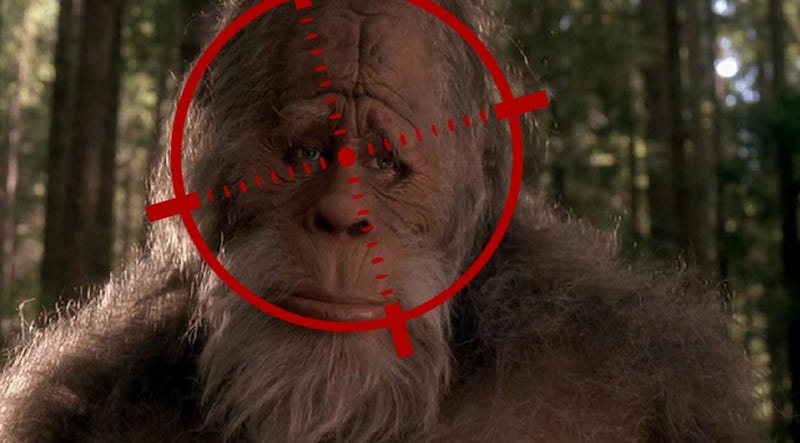 With the latest Bigfoot hoax ready to hit the highway on a national promotional tour, PETA has come out to tell would-be Sasquatch hunters that the big hairy dude deserves to be left alone. Texas, on the other hand, says they will let you quench your thirst for Squatch blood for one low price...
On the heels of professional trouble maker Rick Dyer's announcement that he was taking his totally not fake Bigfoot body on a national tour, PETA has come out in defense of Sasquatch.
"The bottom line is, when someone sees a rare, exotic animal their first instinct shouldn't be to shoot and kill it," PETA spokesperson Lindsay Rajt told the Houston Chronicle. "Just because you see something pretty, that doesn't mean it should be mounted on your wall. You are inflicting pain and suffering either way."
Dyer claims that he shot Bigfoot in a wooded area just off the San Antonio freeway last year, and after being whisked away by the Men in Black, the body (sans organs, bones, or anything harder to fake than some stitched-together pelts) was secretly returned to him by the government. Right.
If you were wondering what Texas thought about Dyer's claim, and more specifically, how the state feels about gunning down Bigfoot, Major Larry Young, game warden with Texas Parks and Wildlife had this to say:
We don't acknowledge that one exists. But if you wanted to shoot and kill a Bigfoot in the state of Texas, you would just need a hunting license.
You heard it, folks, no limit on Sasquatch hunting in the Lone Star State. You can bet PETA ain't happy about that either.
"As an organization we do oppose hunting of any kind. It's cruel and unnecessary and can damage populations and ecosystems," Rajt said.
No word yet on how either feels about the hunting of the Chupacabra.

If you want to try your luck at bagging a Bigfoot, this interactive map will point you in the right directions. Just don't tell PETA.
---