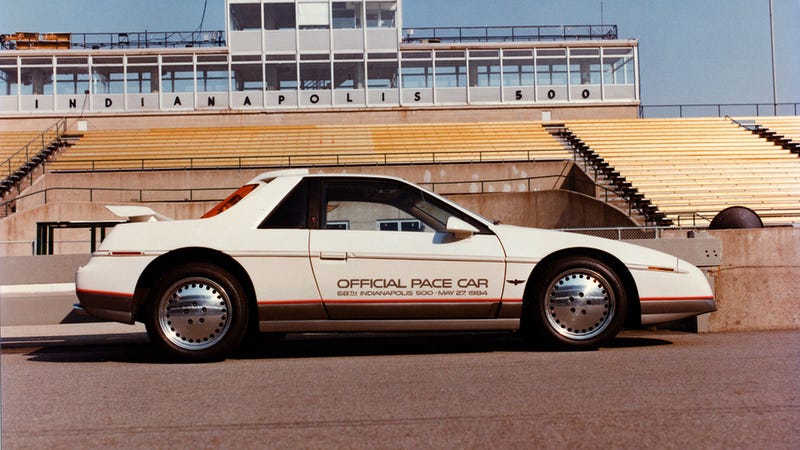 Since the early 1900s, the pace car of the Indianapolis 500 has represented the best in performance and beauty from the automotive manufacturing world. Unfortunately, you do something long enough and you'll have problems. Here's the best of the worst.
The early years saw the likes of Cords and Duesenbergs followed by many years of American muscle and style. After 100+ years it's easy to recognize the worst pace cars of the 500.
1990: Chevrolet Beretta
First and foremost, it's hard to respect a pace car that never became a production car. This unpleasant reminder of early 90s style had too many quality issues to be produced as a convertible beyond the ones needed for the parade and race. Don't worry, GM did produce hardtop pace car replicas in stunningly loud yellow and turquoise. Get your Hammer Pants on and hop-in.
1984: Pontiac Indy Fiero
Where to start with the Fiero? The production car certainly had its issues, but is, admittedly, somewhat endearing. The pace car did set some records as being the shortest and only mid-engine to pace the race. Kudos for that. But the '84 Indy Fiero feels like a bait and switch when you find out the production car has about 40 less HP and may catch fire in your driveway.
1987: Chrysler LeBaron
Few men deserve more respect than Carroll Shelby, so we tread lightly as he was involved in this uninspiring car. The race version pumped out a dismal 174 horsepower with the replica version roaring in at 146 ponies. Feels more like a car you cruise Florida in with your grandparents than a pace car.
1988: Oldsmobile Cutlass Supreme
They fell apart. Literally. 50 were sent out as replicas to be sold, but selling these cars proved to be quite a challenge as they fell apart almost immediately. Whoops.
2001: Oldsmobile Bravada
An SUV!?! Really? Now, concessions must be made… It was the first pace car/truck/suv to be driven by a woman (John Mellencamp's now ex-wife), and it had a decent 270 horse Vortec so nods for both. The fact still remains: it looks like a four-door mini-van or a red cow with doors. Doesn't really inspire that Ricky Bobby go-fast attitude...