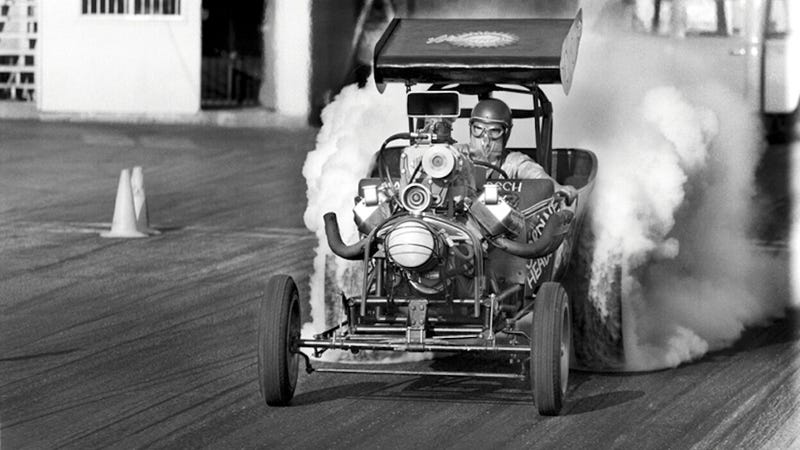 Few have ever driven a Fuel Altered, and only one ever did it one-handed after waking up from a little cat-nap in the staging lanes: Wild Willie Borsch. For years Wild Willie and his Altered, the Winged Express, terrorized the strip. Today, old friends have the Winged Express back making tire-burning passes down the quarter-mile.
When you pair a man as fearless as Willie with a car as wicked as the Winged Express, you'll get some crazy stories. At the Lions Drag Strip Willie racked the throttle once, causing the entire car to jump off the ground, and then racked it a second time with the car leaping up again and coming down sideways. Willie got it back straight and off he went.
The strangest aspect of the Wild Willie legend: his narcolepsy. Childhood friend and crew chief Al "Mousie" Marcellus recalls having to bump Willie's car to wake him up in the staging lanes and twenty blinks later he was going over 200 down the quarter-mile. His narcolepsy also meant Marcellus frequently had to double check Willie's mechanical work on the cars as he often fell asleep in the middle of the work and forgot where he left off.
Wild Willie, Marcellus, strung together an impressive drag racing resume included a record-setting 7.29 at 207 at the '72 NHRA Winternationals. Competitors feared facing Willie and the Winged Express so much they even threatened to boycott the '69 Winternationals if Willie was in the field over Don Garlits.
Over the past several years, Marcellus has traveled with a restored version of the Winged Express, Willie's ashes in tow, to drag strips across the country. Iron Mike Boyd even takes the Winged Express out on the track from time to time for all to taste the excitement of seeing a Fueled Altered run. For a small fee you can buy an autographed poster of Willie one-arming the Winged Express while it's sideways on the track.
Want to see the Winged Express go down the track? Here are a couple videos to satisfy your cravings:
Cover photo: Book Speedseekers Photo: Tom West
A couple videos just isn't enough! Plan your high-octane trip with our Racing Destinations guide. Hit us up on Twitter andFacebook.