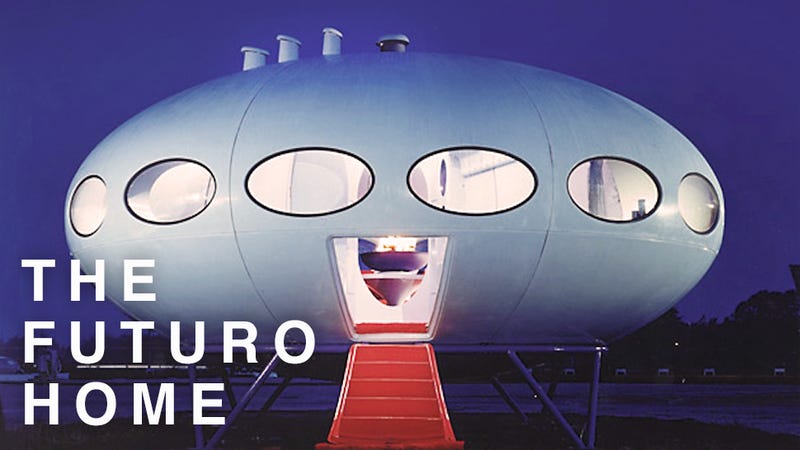 Designed by Finnish architect Matti Suuronen in 1968, the Futuro home was once hailed as a defining moment in '60s utopian architectural design. Now, they're mainly used as kitschy novelty houses or lay abandoned, rotting away throughout America. We've hunted down a few of the best.
He was supposed to design a ski lodge, but instead created a plastic caspsule that was an 8-meter in diameter "rotating ellipsoid," which became an iconic and defining image of the 1960s. However, in reality, the Futuro home is an architectural failure. Less than 100 of the prefabricated homes were ever produced.
When consumer goods were focused on modular, labor-saving products, this house represented a form of radical utopian design. The Futuro home was a reflection of mass-market consumerism, intended for mass-distribution for a presumably ready and waiting populace.
Playboy magazine once featured a Futuro home and billed it as "the ultimate bachelor pad." Fittingly a Futuro was used as the set of a 1970s never-released-on-video Sci-Fi porn. A documentary on the Futuro house, Futuro - A New Stance For Tomorrow, by Finnish director Mika Taanila (pictured above), was released in 1998.
Today there are a handful of these homes that you can visit in the states. Here's a rundown of a few of our favorites.
Royse City, Texas: This Futuro's been abandoned for quite some time now, but looks perfect for photo-shoots.
Willingboro, New Jersey: This Futuro once operated as a "Spacebank" complete with "Space Tellers".
Greenwich, New Jersey: The Greenwich Futuro was a part of the Planet of the Apes ride back in 1975 on Morey's Pier in Wildwood, NJ. Then the ride was changed to Star Wars-themed in the late '70s. The Futuro was then sadly abandoned and forgotten.
Tampa, Florida: Here we have the world's first Futuro House that doubles as a Champagne Room! This home rests proudly atop a strip club. Here you can enjoy the company of a lovely lady, for a lap dance or whatever.
Pensacola, Florida: When Hurricane Ivan battered the Gulf, this Futuro was left relatively unscathed (as opposed to her battered neighbors). Sitting atop a beach house, this UFO home comes complete with aliens peeking out from the windows.
Carlisle, Ohio: The owner of this pair of Futuro homes connected them with a metal duct to create an "Alien Duplex."
Covington, Kentucky: The guy that lives here is totally eccentric, and he uses the house as a novelty to entertain clients of his contracting business. The interior is all purple and seriously looks like a 70s porn film set.
The Futuro home in all her interior glory:
Know of any more Futuros? Share them in the comments and we'll add them to the site. Visit Roadtrippers on the web, and hit us up on Facebook and Twitter.