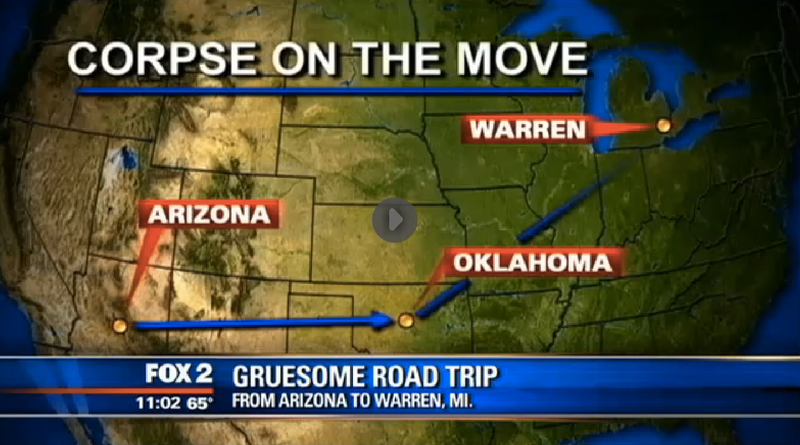 So, yeah, a guy went on a road trip last week with a corpse. I guess that's a "thing"? Fox 2 reports that 62-year-old Ray Tomlinson drove from Clinton Township, Michigan down to Arizona to pick up his soon-to-be-deceased road trip buddy, a 31-year-old, presumed mentally-ill, woman from Glendale, AZ.
It's believed that after stopping for gas in Flagstaff the woman overdosed on oxycodone pills and Tomlinson believed she was just passed out, realizing later that she was dead. Basically after stopping a couple times more and realizing she didn't need a "pee break", he figured she had passed away.
But, did that stop 'ole Ray Tomlinson? No. Dude didn't call the nearest hospital, or 911, instead he used his cell phone to search for what you do with a woman's body. As one does? And allegedly Google told him to finish his road trip, because "he had 48 hours to present the body to a medical examiner." Sick.
So, this guy drove from Arizona all the way to Michigan with a decaying body in the passenger seat. He tried to make her comfortable, by propping her up in a sitting position and putting sunglasses on her, and placing a stuffed animal in her lap. Because, WHAT THE HELL?!?!
It gets weirder...
The guy's 92-year-old mother WAS IN RIDING IN THE BACK OF THE VAN THE ENTIRE TIME!!! Yeah, his wheelchair-bound mom was also on the road trip from hell.
At some point the air-conditioning stopped working. Obviously.
During the drive, the man was contacted by the Arizona mental health facility. They wanted to make sure the woman continued to get help when they arrived in Michigan. At this point he informed them of her death. The mental health facility called police. Local law enforcement contacted the man and urged him to go to the nearest emergency room. He insisted on continuing to Michigan. -Fox 2
Once he arrived in Michigan he pulled into his son's house, and the entire neighborhood got a whiff of what a decaying body in a non-airconditioned van that's just been on a 26-hour road trip smells like. SPOILER ALERT: It's gross.
Currently, Tomlinson isn't in police custody and "no charges have been filed...[t]he Macomb County Prosecutor's Office is reviewing the case."