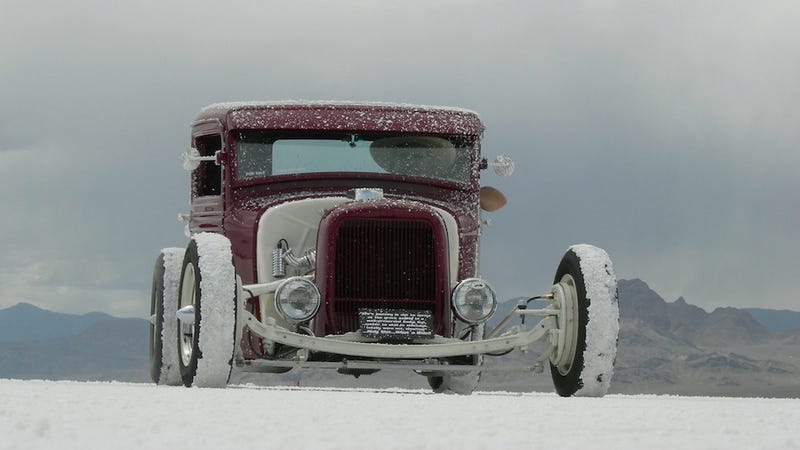 For nearly 100 years the Bonneville Salt Flats has been the ultimate test for man and machine. Fearless gear-heads such as Art Arfons, Craig Breedlove, and Burt Munro drove their way to legend status here. Many other greats died trying. Today, lovers of the Bonneville Salt Flats fear it's disappearing.
The Salt Flats have one other major use beyond the quest for speed: potash mining. The Save the Salt Coalition cites years of mining coupled with poor management by the Bureau of Land Management to the shrinking of the flats from 90,000 acres to 19,000 acres.
Over the years racers have encouraged the mine company to replenish the flats after the potash is removed. Unfortunately, it appears the current owner of the mine is resisting pressure to increase the replenishment efforts and the BLM doesn't seem concerned.
So how bad is it? Estimates suggest the flats are losing 1.6 million tons of salt per year. What was once a 4-7 foot crust in the 1960s is down to just a few inches in some spots.
More bad news… Geologists differ in opinion as to whether pumping back the salt after it is mined for potash has any positive effect on crust thickness. The last option for Bonneville Salt Flat lovers may be to pressure a complete shutdown of mining activities.
The good news: you can help! The Save the Salt Coalition offers multiple sponsorship and donation opportunities. If you're lucky enough to be at the Grand National Roadster Show this January check out the "Century of Speed" display and buy the book… All proceeds go to the coalition.
---
Check out the Roadtrippers' Racing Destinations for all temples of speed across the US. Hit us up on Twitter andFacebook.