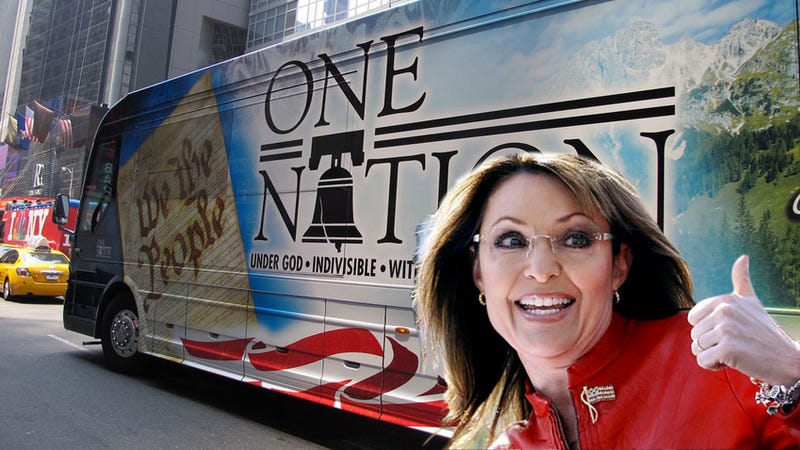 Remember the time former Alaska Governor Sarah Palin did that bus tour across America? Well, she's downgrading her RV to a Class C motor home and her old rig is up for sale for a cool $279,000, according to OCRV Motor Coaches.
Current owners of the "very rare coach", Todd and Sarah Palin are selling their luxury bus, and the Alaskan government crime-fighting duo has tacked on just under 30,000 miles.
According to her hubby Todd:
"She loves to drive and really admires those hardcore lady RVers who maneuver their rigs and even haul trailers behind, but Sarah humbly admits there must be a better way than her white-knuckling on the highways behind the wheel of our Lexa. A smaller rig may do the trick for her."
Here's some specs on the 'Merica Mobile:
This is the top of the line in Country Coaches' impressive line up of high end Coaches, engineered for style and performance and custom built from the ground up on a Dynomax chassis! This chassis features Independent Front Suspension (IFS) and is powered by a Caterpillar C-15, a 15.2 Liter 928Cu in engine putting down a powerful 1650lb ft torque and equipped with Jacobs 3 stage engine brake!

The unique and stylish look comes with very clean lines including a full height windshield, flush mount windows and integrated hidden bay latches! The awning package is like no other, consisting of 4 high roof cap awnings with wind sensors!

The coach is fully loaded with all the right equipment including electronic dash display, GPS, stacked inverters, In-motion satellite, 2 new HD LED TV's with premium sound, fully automatic leveling system, new Life-line 8D batteries, stacked washer & dryer, 2x90" dual directional slide trays, 3X15K btu AC's with heat pumps, radiant floor heat and a full hydronic heating system to name a few of the featured options!

This is one of the best looking, best working Coaches I've seen and has been maintained at the highest level service!! The Coach has been gone through from front to back and is ready for immediate travel!
[H/T New York Daily News]
We can only imagine the adventures Sarah and Todd are gonna have in their new motor home! Who knows, next time you roll up with your RV to a National Park you may just have some caribou-eatin', Constitution-lovin' neighbors to chat with!