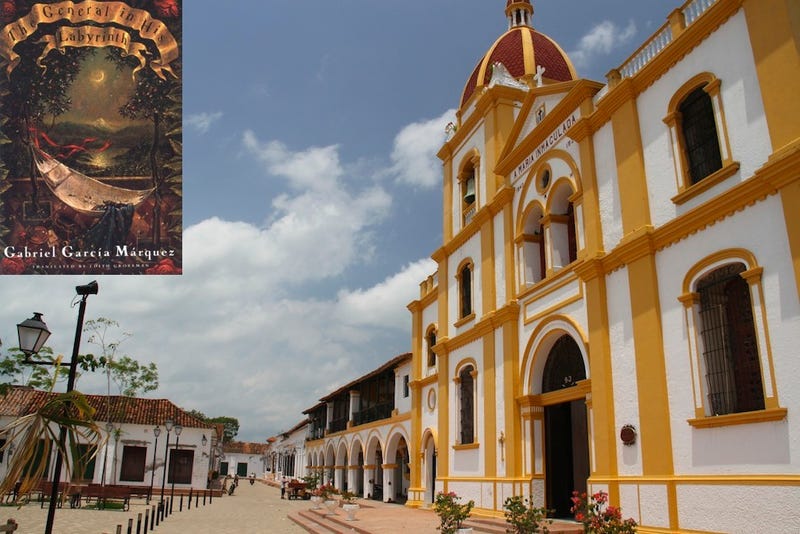 Smithsonian reports that the late novelist Garcia Marquez's town, "Mompox" from The General in his Labyrinth, actually exists. Although the main character says the town only exists in dreams, it is a very real place. Home to about 30,000 people, it's just as beautiful and vibrant and as picturesque as if it was in a dream. The town center is even listed as a World Heritage Site.
If you've ever read any Gabriel Garcia Marquez books, you might be familiar with the fictional town of Macondo and the Nasar family. Well, step through the streets of Mompox and you will feel and breathe Macondo, wandering the squares and streets that Marquez described, giving you the surreal feeling that you are actually in one of his books, such is the descriptive power of Colombia's most famous literary hero. And as for the Nasars, they were real Mompox residents who had to flee to Cartagena after the townsfolk started to believe what was in Marquez's books. - See Colombia Travel
Mompós, or Santa Cruz de Mompox was settled in 1540 by Spanish settlers. The town oozes the Magical Realism that permeates Latin American folklore.
The town exudes magic, history and wonderment, stories abounding in every corner, every stone, every street. In fact, Mompox's history is inextricably linked with Colombia's past, with many people here claiming that Colombian independence was achieved in Mompox, rather than Bogotá. Bolivar himself once said "If to Caracas I owe my life, then to Mompox I owe my glory".

Yet due to its geography and the fact that the Magdalena River split, Mompox was left stranded and isolated, an island in the middle of a vast river, giving rise to an incredible time-warp town, perhaps Colombia's last remaining truly colonial outpost. Mompox is completely lost in time and, while this is a phrase that is often used to describe Colombian towns, it is nothing short of a perfect description of Mompox. - See Colombia Travel
Visiting Mompox is like stepping back in time to a transdimensional world that lies somewhere between dreams and reality.
Images courtesy Smithsonian.com