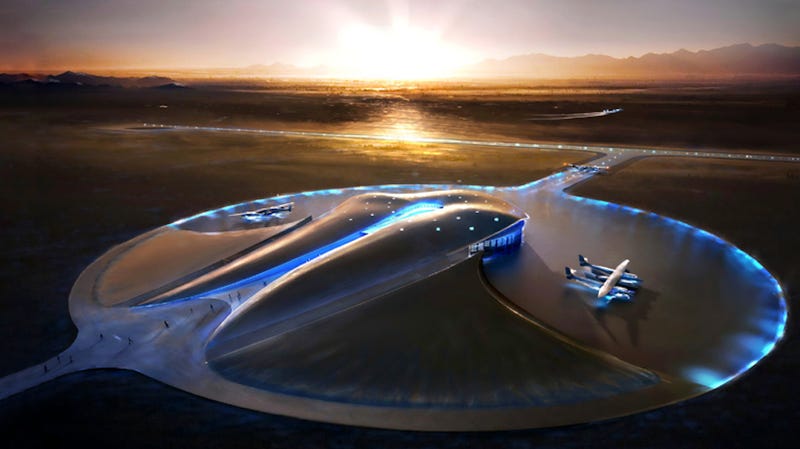 This is the world's first commercial Spaceport. It has a 12,000-foot runway, called a "spaceway", that will handle the takeoffs and landings of its first tenant space airline, Virgin Galactic. The galactic airport is over 18,000 acres and it's getting ready to open shop.
Roads? Where we're going, we don't need roads...
It's already created over 1,000 new jobs in New Mexico and just last May a new tenant signed a 3-year agreement, SpaceX (Space Exploration Technologies Corporation) and they've already begun testing their reusable rocket program (i.e. Grasshopper). The "vertical takeoff and landing project [that] aims to enable a multi-legged booster to return to the launch pad intact, rather than being wastefully tossed away."
Today, there are fire trucks and other emergency vehicles on site as well as field maintenance crews. Those who have already bought their tickets to rocket to space aboard Virgin Galactic (i.e. the insufferably rich), can now enjoy a personal tour of the Spaceport complex. On-site and off-site welcome centers are projected to be completed next year.
Virgin Galactic's WhiteKnightTwo/SpaceShipTwo are continuing to undergo launch system testing at the Mojave Air and Space Port in California, and Virgin promises it's going to be more than a "thrill ride".
"We do also have the scientific side," Butler said. "That's going to be a really important part of our business. We're going to be taking experiments on board [the] spaceship and flying from Spaceport America. We are developing quite a versatile system to support this new industry. Keep an eye on the next 18 months or so, and watch one of our launches out of Spaceport America," he added. [Space.com]
However, if you don't happen to be a mega-millionaire, I'd recommend bypassing the Spaceport and visiting the U.S. Army White Sands Missile Range, which is adjacent.