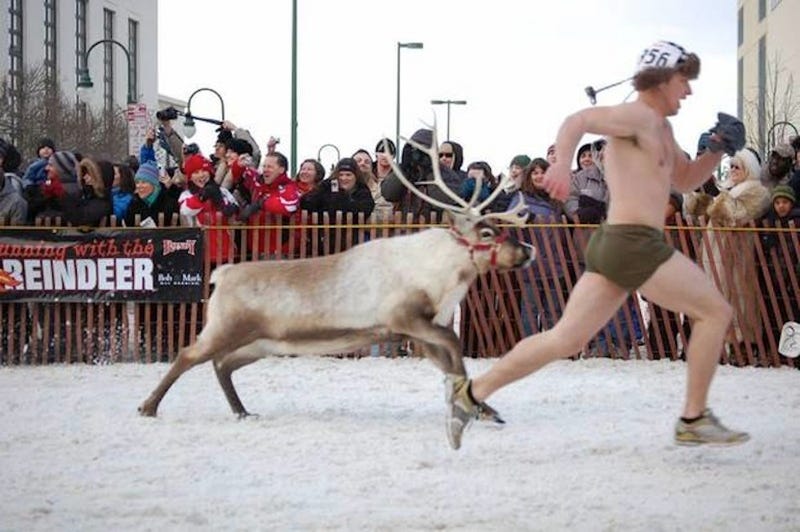 Winter festivals are in full swing! Get ready to strip down to your birthday suit and dive into a half frozen creek just for the fun of it. Here's a hand-picked list of the weirdest winter festivals in North America.
Northern Michigan gets weird and wonderful this time of year at the annual weekend-long Slush Cup. If you want to compete in a frozen fish toss, take part in a snow shoveling contest, and try to ski across a 40 foot creek… in a costume, this is the fest for you.
Grab your speedo and head towards Idaho this February for the Fire and Ice Winter Fest. Take a dip in the ice cold Portneuf River while floating on an inner tube… in a costume (I'm sensing a theme here). The most inventive costume wins a highly coveted Fire and Ice Prize, as well as life long bragging rights.
Eat, drink, and strip down to your underpants while playing a game of volleyball in the snow. Quebec's Winter Carnival is the largest winter carnival in the entire world, so there's plenty to see, do, and eat while you explore the the weirder side of winter.
Nicknamed "the antidote to cabin fever", the Cedarburg Winter Fest has been going strong for 40 years. Festivities include ice carving, beer tasting and everyone's favorite event: Bed Racing. Because really, is there anything more terrifying fun than sledding down a hill strapped to a bed?
2014 marks the Yukon Sourdough Rendezvous' 50th anniversary, and this year they're pulling out all the stops. Take in a can-can show while eating fresh maple syrup, and if that's just not manly enough, why not sign up for the chainsaw toss?
Fur Rendezvou, or Fur Rondy as it's called by locals, has been occurring in Anchorage since 1935. Back then it was a local festival to bring the town together, but today the festival is still in full swing, with a reindeer run (yes, you read that right), a best beard contest, and Miss. Fur Rondy pageant.
In Nederland, Colorado there's a celebration of the 1994 cryonic state corpse of Bredo Morstel...yeah, that's just about as weird as we're going to get...

Winter Festivals don't have to be boring, especially not when there's plenty of chainsaws to toss, costume contests to compete in, and and skinny dipping to do.
---