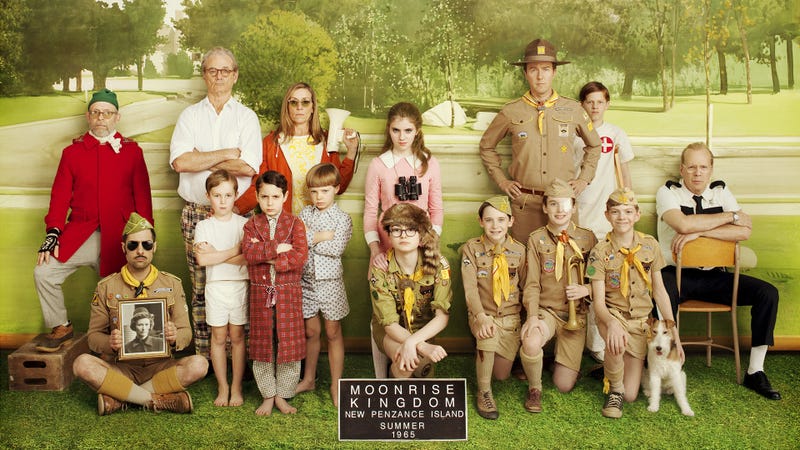 Adventure. Innocence. Dysfunction. Passion. Maps. Books. Art. Music. Love. Sex. Moonrise Kingdom is an an impassioned tribute to childhood crushes, summer camp exploits, and star-crossed lovers. Relive the adventure with this whimsical road trip through the Moonrise Kingdom filming locations.
Actually, the word "whimsical" doesn't even begin to describe the romantic summer adventures of our protagonists, Suzy and Sam. Quixotic is perhaps a better word. Maybe it's because I grew up in a similar bucolic coastal town (Ipswich, MA), but there's something iconic and magical about summers in New England. So, I was tempted to hunt down the filming locations of Moonrise Kingdom's New Penzance Island.
The iconic Moonrise Kingdom cove is actually a bay beneath Fort Wetherill, a 61-acre former coastal defense battery and training camp in Fort Wetherill State Park. It overlooks Narragansett Bay.
This beautiful former Jamestown lighthouse was used as the Bishop home exterior. Conanicut Point Light was built in 1886 and is registered as a National Historic Place.
Some exterior shots were also filmed at the historic Ten Chimney's cottage in Wisconsin. This was the romantic summer retreat of actors Lynn Fontanne and Alfred Lunt (and was host to such esteemed guests as Helen Hayes, Laurence Olivier, and Vivien Leigh).
The interior of the Bishop family home, built and designed for the film, oozes in patterned textures, drama and nostalgia.
The inspiration for the home's interior comes from Clingstone (AKA "The House on the Rock") in Narragansett Bay (specifically its interior shingles).
Camp Ivanhoe, home of the Khaki Scouts, was shot at a 2,500-acre preserve, the South Kingstown Land Trust. Later in the film we visit Fort Lebanon, which was shot at Camp Yawgoog in Hopkinton (a few local scouts were even used as extras).
After Sam escapes from the Khaki Scouts, he meets up with Suzy at this field. It's actually the historic, 265-acre Watson's Farm.
Several lighthouses were featured in the film: Point Judith Lighthouse, Narragansett, Castle Hill Lighthouse, and the Bishop's home is an ex-lighthouse.
But, alas, the iconic lighthouse that Suzy stands on was built in Jamestown specifically for the film.
Ballard Park in Newport, Prudence Island and other spots off Narragansett Bay also served as filming locations. St. Jack's Church is actually the historic Trinity Episcopal Church in Newport.
So, grab a map, a suitcase of books, and explore the magical world of Moonrise Kingdom.
Follow the trip here.
Visit the Film Spotting Guide for more iconic filming locations from your favorite movies. Hit us up on Facebook and Twitter.