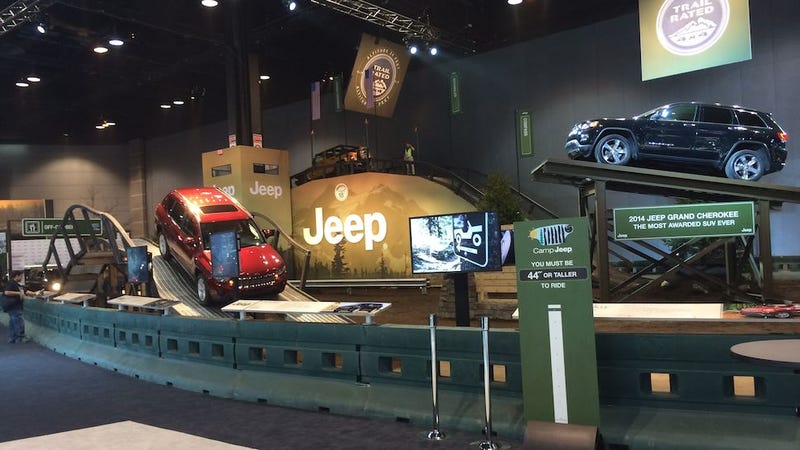 You remember when the carnival came to town as a kid? Well, auto events aren't that different from a traveling carnival, and I'm proud to say I rode all the "rides" Friday at the 2014 Chicago Auto Show! And thanks to it being media day, NO LINES!
The similarities between the carnival and a big auto show are uncanny... There are carnies... They just happen to be tall leggy ladies in high-heels, but rest assured... Their goal is the same as the carnival worker at the fair: get your money.
And just like the real carnival, the rides are the bait, but at least these rides don't require tickets... just your email and a beg to share your cheesy picture on Facebook.
Here are some of the "experiences" I was tall enough to ride Friday:
The Camp Jeep "Mildly exciting for a few moments" Ride
The Jeep display was by far the most thrilling... Steep grades up and changes in terrain actually made it some what of a thrill. This ride was also the only one I had another passenger with me... Him photobombing me is, of course, the highlight of the ride.
The Chrysler "Drive around the cones and almost go fast" Ride
Chrysler's ride didn't really go up or down, but you do get a half-hearted "drag race" at the end, so all in all the ride wasn't half bad... You get to pick between a a few different Chryslers, Dodges, and Fiat... I passed on the Fiat- this may be a carnival, but it's not a circus. Keep me out of the clown car.
The Toyota "Looks really cool but isn't thrilling at all" Ride
"Are you ready for the ride of your life?" asked the Toyota rep. I didn't want to offend him so I just kind of laughed. Thankfully he said, "Well you're not going to get it here in an SUV." Overall the Toyota carnies were the coolest, even the track workers cheese it up a little for me.
The rides may not be very fun, but the booth prizes are way better than stuffed animals and goldfish...
In Chi-town for the show? Pull up the Roadtrippers Guide to Chicago: