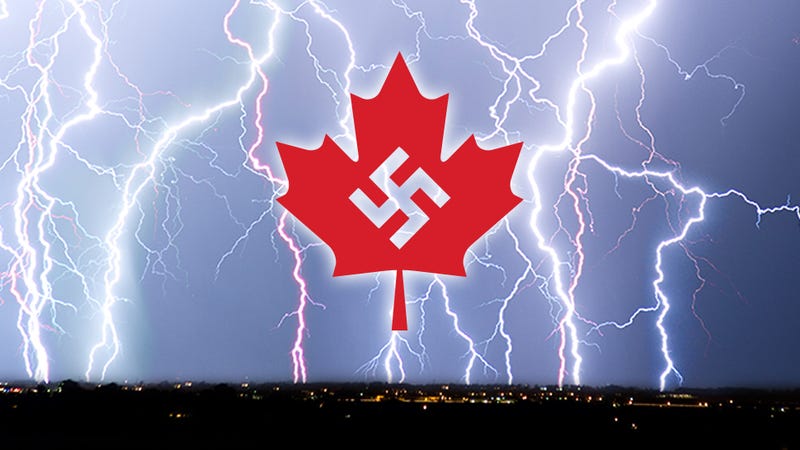 It was a cold and bleak October morning in 1943, when a German U-boat crew built Weather Station Kurt (Wetter-Funkgerät Land-26) in Newfoundland. This marks the only time (that we know of) during WWII that the Germans conducted a military operation on North American soil.
It wasn't until the late '70s that the weather station was discovered to still exist. A team of Canadian historians, went to the site in 1981 and brought the station to Ottawa where you can now visit it at the Canadian War Museum.
Weather systems in temperate climates predominantly move from west to east. This gave the Allies an important advantage. The Allied network of weather stations in North America, Greenland and Iceland allowed the Allies to make more accurate weather forecasts than the Germans. German meteorologists had weather reports sent by U-boats and weather ships, such as the Lauenburg, operating in the North Atlantic. They also had reports from clandestine weather stations in remote parts of the Arctic and readings collected over the Atlantic by specially equipped weather aircraft. However, the ships and clandestine stations were easily captured by the Allies during the early part of the war. Data from aircraft was incomplete as they were limited in range and susceptible to Allied attack. Regular weather reporting by U-boats put them at risk as it broke radio silence, allowing the Allies to locate them and track their movements by radio triangulation. [Wikipedia]
So, those Nazi bastards built the Wetter-Funkgerät Land weather station, designed by Ernest Ploetze and Edwin Stoebe, and manufactured by Siemens. The weather stations came with a variety of instruments to measure and broadcast weather readings. They were deployed from the Arctic to Greenland and North America.
On September 18, 1943, U-537 was deployed from Kiel, Germany carrying meteorologist Dr. Kurt Sommermeyer. It arrived at Martin Bay in North Labrador on October 22nd, heavily damaged from a storm.
Within an hour of dropping anchor a scouting party had located a suitable site and soon after Dr. Sommermeyer, his assistant and ten sailors disembarked to install the station. Armed lookouts were posted on nearby high ground and other crew set to repair the submarine's storm damage. For concealment, the station was camouflaged. Empty American cigarette packets were left around the site to deceive any Allied personnel that chanced upon it, and the equipment was marked as the property of the non-existent "Canadian Meteor Service" (although, at the time, the area was part of the Dominion of Newfoundland, not part of Canada). [Wikipedia]
After 28 hours the weather station was installed and U-537 set out to sea, and the Nazis had their goddamn weather station.
History buff? Visit Roadtrippers' Full Metal History Guide to America's best historic military sites. Follow us on Twitter and Facebook.