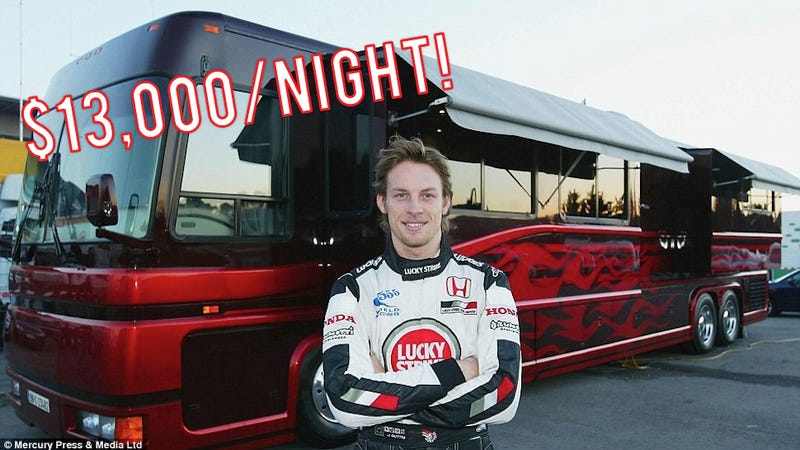 It's called the "Icon." It's a 500 sq. ft. gargantuan, mobile palace. Owner Andrew Morris believes the "7-star" rolling hotel suite is the UK's largest motorhome. In a previous life it was Jenson Button's old tour bus, and it could be yours for a measly $13,ooo/night!
After ponying up the cash, you'll be greeted with champagne and a lovely gift basket, filled with delicious goodies! In addition a fleet of waiters will be on-hand 24 hours a day to meet your every need. You'll be having champagne wishes and caviar dreams in no time!
The first million-dollar motorhome also boasts its very own limousine, helicopter and Michelin star chef to enjoy in the extravagant bus - which boasts a 42' plasma TV, fully fitted American-style kitchen, a walk-in wardrobe and a gold ensuite bathroom.
The glittering tour bus, covered in leather, was previously home to world champion, Jacques Villeneuve
Mr Morris added: 'It was made especially for life on the race circuits of Europe and has been home to Formula One drivers including world champions Jacques Villeneuve and Jenson Button.
Button used the rolling castle from 2003 to 2011. It's also noted that "Daytona 500-winning Nascar driver Matt Kenseth is a proud owner of a similar vehicle."
Check out the Roadtrippers' Racing Destinations for all still-open speedways across the US. Hit us up on Twitter and Facebook.