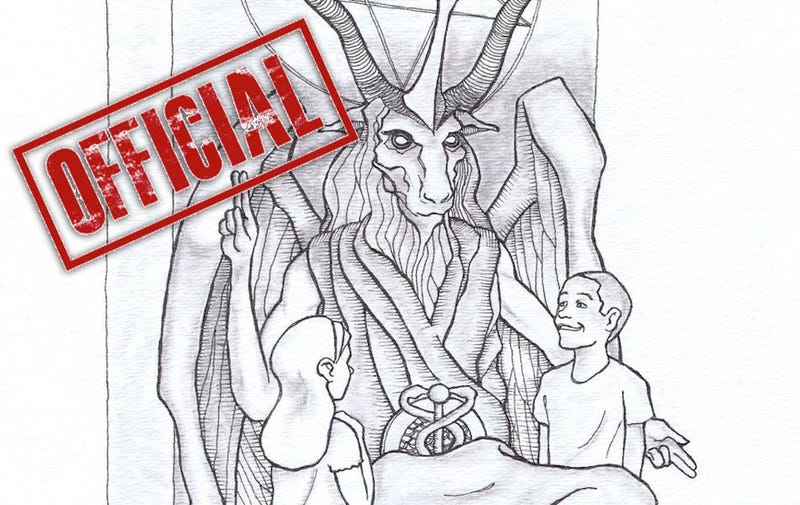 As you might recall, a month ago The Satanic Temple announced plans to place a monument on the steps of the Oklahoma Capitol building, after a Christian group had been allowed to erect the ten commandments. Well, now the Satanists have unveiled their monument design, and boy.. it's really somethin'.
The sketch was officially submitted yesterday to the panel that oversees the Capitol Grounds, and the Satanists are already well on their way after raising half of the $20,000 needed to actually build the statue. Should the Satanic monument receive approval, Oklahoma can look forward to a seven foot tall granite visage of The Great Horned Beast, sitting on a throne bearing a pentagram, with two gleeful children by his side. It's kind of hilariously non-threatening, actually.

"The monument has been designed to reflect the views of Satanists in Oklahoma City and beyond," temple spokesman Lucien Greaves said in a statement. "The statue will also have a functional purpose as a chair where people of all ages may sit on the lap of Satan for inspiration and contemplation."
The entire idea came about when officials decided that it was a good idea to ignore legal advice and give permission for a privately funded Christian monument to be placed on Capitol Grounds. Of course, this has drawn the attention of numerous other groups who now want their own monuments on the lawn, because hey, fair is fair. In fact, the Capitol has received so many requests from Hindus, animal rights groups, and even the worshippers of the Flying Spaghetti Monster that they've put a moratorium on any more petitions.
"I do not see Satanism as a religion, and they have no place at the state Capitol," said Republican Earl Sears, adding that the monument was "an insult to the good people of the state." Greaves and his fellow Satanists remain unfazed.
"We plan on moving forward one way or another," he said.
---
Use Roadtrippers to plan your visit to Oklahoma's new Satanic monument. Follow us on Twitter and Facebook.