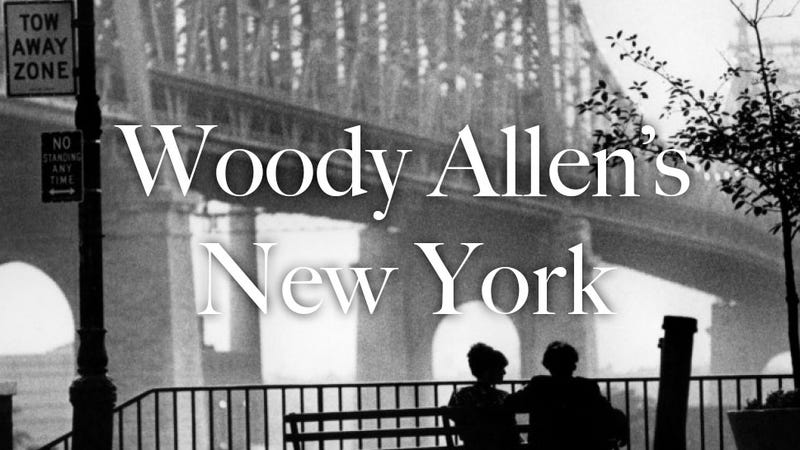 Insanely charming and deliciously-neurotic, Woody Allen's films are angst-ridden love letters to the city of New York. In honor of the director's 78th birthday, here's a walking tour of Woody Allen's most iconic New York filming locations.
Beekman Theatre (from Annie Hall)
Annie Hall is considered one of the best, if not the best, Woody Allen film. This historic Beekman Theatre is where a fan accosts Alvy Singer (Woody's character), who's waiting impatiently for Annie (Diane Keaton), one of the world's first Manic-Pixie-Dreamgirls. Also don't forget to catch a flick at The Paris Theater, where Woody gets into a pretentious argument with a pretentious Columbia professor.
Pomander Walk (from Hannah and Her Sisters)
In Hannah and Her Sisters, Sam Waterston takes Dianne Wiest and Carrie Fisher on a tour of his favorite buildings in New York, including this ridiculously-cute, mock-Tudor village. Pomander Walk has enchanted such fans as Humphrey Bogart and Woody Allen, with its old English charm.
The Langham (from Hannah and Her Sisters)
Another iconic building from Hannah and Her Sisters is The Langham. This is where Hannah (Mia Farrow) lived and held her annual Thanksgiving dinner. Don't forget to visit the St. Regis-Sheraton Hotel, where Hannah's husband (played by Michael Caine) has an affair with Hanna's sister (played by Barbara Hershey), after they meet at the Pageant Print and Book Store, while browsing for e.e. cummings.
Elaine's (from Manhattan)
Shot in black and white, and set to a gorgeous Gershwin score, Manhattan is another fan favorite. Woody Allen used to frequent this classic New York restaurant when it was open and this is where Manhattan opens, as Allen is discussing the ups and downs of dating a 17-year old to his friends. Elaine's is iconic in every sense of the word. Unfortunately it's now closed. The owner, Elaine Kauffman was so pissed off about New York's smoking ban (she herself had quit years earlier, but believed her customers should still be able to puff up). After Kauffman died, the establishment closed: "The truth is, there is no Elaine's without Elaine."
The Russian Tea Room (from Manhattan)
Celebrating its 85th year, the Russian Tea Room is a New York institution. Allen's been a longtime regular at this uptown restaurant. This is where he brings his son for some bonding in Manhattan. Another prominent eatery from the film was John's Pizzeria (classic New York pizza joint since 1929), where Allen's young girlfriend (a delightful Mariel Hemingway) informs him of her plans to study in London.
Guggenheim Museum (from Manhattan)
This stunning building was designed by Frank Lloyd Wright and is a must-see stop in its own right. It also happens to be where Allen and Diane Keaton's characters meet in Manhattan. The Metropolitan Museum is also briefly shown in the prologue, and the Whitney has a brief appearance. Also, the Hayden Planetarium was used as a backdrop for various scenes in the film. It's where Allen and Diane Keaton go to escape the rain. Don't forget the Museum of Modern Art, the location for the Equal Rights Amendment Fundraiser.
Riverview Terrace (from Manhattan)
A trip to Woody Allen's New York isn't complete without a photo at Riverview Terrace. This is also the arguably the most famous scene from the film, and one of the most iconic movie poster photos of all time. It's where Woody and Keaton watch the sun come up.
Carnegie Delicatessan (from Broadway Danny Rose)
A midtown landmark, the 40-seat Carnegie Deli opened in 1937 across from Carnegie Hall. It was featured prominently in Broadway Danny Rose, Allen's film that chronicled the career of Danny Rose, a Broadway talent agent to a motley crew of hopeless, wannabe stars. His misadventures are discussed by comedians who share Danny Rose stories at The Carnegie. This is another real-life location that Allen frequents.
BONUS
A Woody Allen tour of New York isn't complete without a stop at The Carlyle Hotel, where Woody performs with the Eddy Davis New Orleans Jazz Band every Monday, and a walk through Central Park Zoo (a staple of Allen's films).
What iconic Woody Allen spots did we leave out? Let us know in the comments and we'll add them to the map!
---
Check out the Roadtrippers' Film Spotting Guide for all the coolest filming locations in the US. Hit us up on Twitter and Facebook.