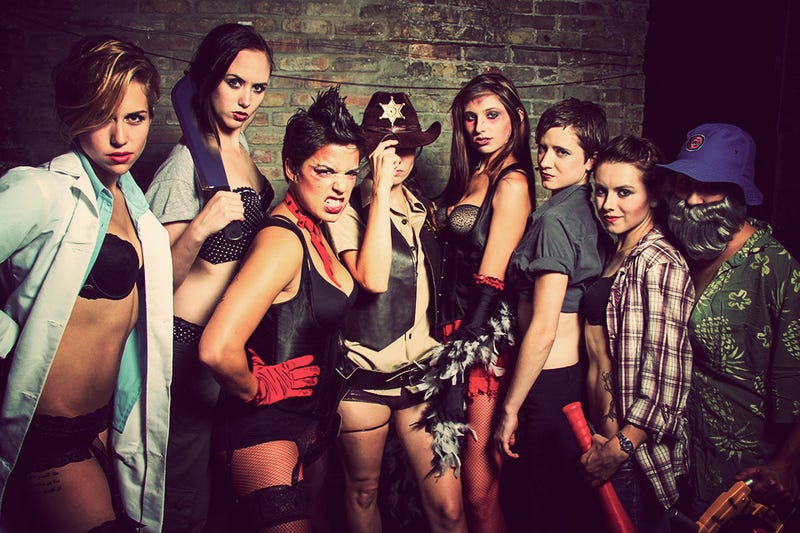 For a glorified soap opera, there's one thing that The Walking Dead isn't: sexy. Well, Chicago's Gorilla Tango Theater decided to change that with Boobs of the Dead: A Walking Dead Burlesque, supplementing the storyline with a lot more.. well.. boobs.
The gals from Gorilla Tango Burlesque have turned AMC's wildly successful zombie series into a comedic stage show where the gore is replaced with glitter and the sob stories take a back seat to strip teases. Boobs of the Dead has been such a hit that it's been extended all the way up to December 27th. That's a whole lot of demand for a show that was meant to be a Halloween special.
Here's the official description:
"The Sheriff awakes to find that a virus has taken over the world and has transformed the majority of Chicago into undead zombie burlesque dancers. Undeterred by this gruesome turn of events, Sheriff suits up, snags a sexy mount, and rides off in search of other survivors. Will Sheriff find Wife Lady before she bags Best Friend? Will Old Dude's Winnebago run out of gas at the exact. wrong. moment? Will Southern Guy's crossbow have enough endless bolts to get them all to the Chicago CDC? The answers to all these questions and more await you in this parody of the popular Walking Dead television series."
Sorry, Carl. This show is 18 and over.
For more information on tickets and showtimes, head over to the Gorilla Tango website.
---