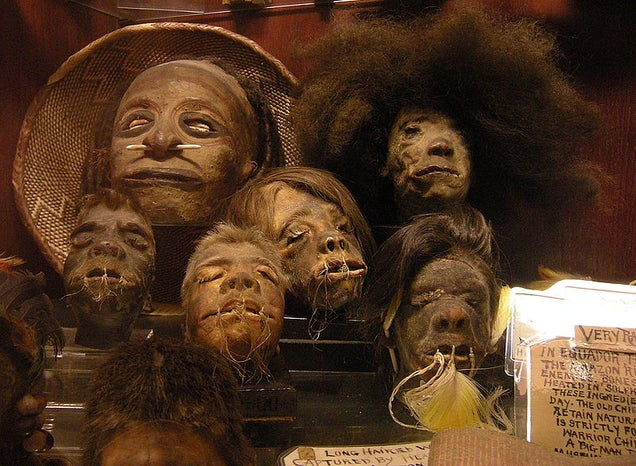 S
Struggling to find the perfect gift for the eccentric weirdo in the family? Ripley's Odditorium in Manhattan wants to help by selling you genuine human shrunken heads, real wooly mammoth hair, or a stuffed albino giraffe. But wait, there's more!
Since the 1930's, Ripley's Believe It Or Not museums have been known for their collections of the world's weirdest artifacts, and for the first time ever, they're offering up a few of their finest specimens to the gift-seeking public.
From their release:
When you find yourself stumped at the mall this holiday, remember there's a place where authentic elephant armor, a vampire killing kit, and human head trophies are just the beginning of the gift lineup. For the first time ever, Ripley's Believe It or Not! Times Square has entered the doorbuster frenzy with its Holiday Giftacular event. From Black Friday until 12/24 only, some of our most unbelievable exhibits areavailable for purchase — from Robert Ripley's beer stein collection to our 16th century Iron Maiden. And we're topping it off with generous deals and oddly festive events.

Add it all up and you have NYC's best place to shop for the relative who truly has everything. Including an elephant.
If you're in the market for some dinosaur eggs, a six-legged calf, or a human head in a box, you should know that they'll set you back a pretty penny, with the cheapest gift on the list being a four leaf clover.. a steal at $1,500. A shrunken head goes for about 20 grand. Gotta have a set of rare elephant armor? That'll be 2.5 million.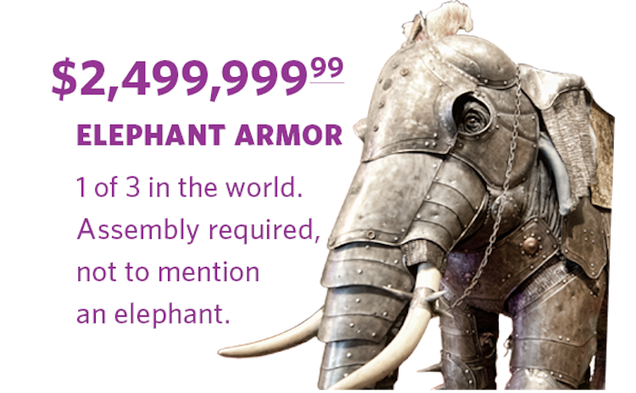 S
Too rich for your blood? You can always order a replica shrunken head from Ye Olde Curiosity Shop in Seattle. Sure, it's not real human flesh, but it's the thought that counts, right?
---