Lucid Stead is an art installation in Joshua Tree, California. It's the creation of artist Phillip K. Smith III. The cabin was built using LED lighting, and custom-designed electronic equipment and "Arduino programming amalgamated with a preexisting structure." The result is an amazing architectural desert art piece.
"Like the enveloping vista that changes hue as time passes, Lucid Stead transforms. In daylight the 70 year-old homesteaders shack reflects and refracts the surrounding terrain as if a mirage or hallucination. As the sun tucks behind the mountains, slowly shifting, geometric color fields emerge until they hover in the desert darkness."
During the day the cabin is lit naturally by the sun, as mirrored slats make the cabin look transparent. At night, both the windows and door emit an ambient glow, as LED lights (powered by solar panels) gradually change color.
"Lucid Stead is about tapping into the quiet and the pace of change of the desert. When you slow down and align yourself with the desert, the project begins to unfold before you. It reveals that it is about light and shadow, reflected light, projected light, and change."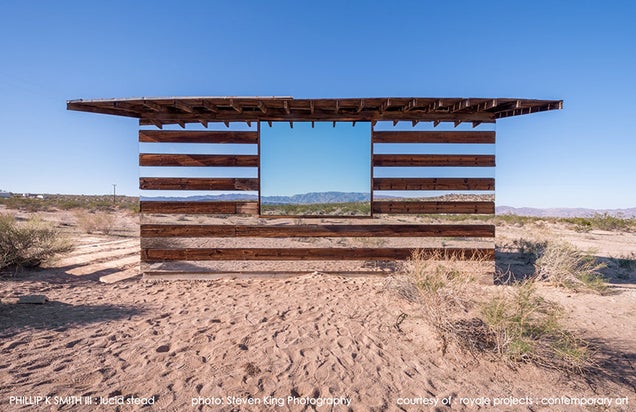 S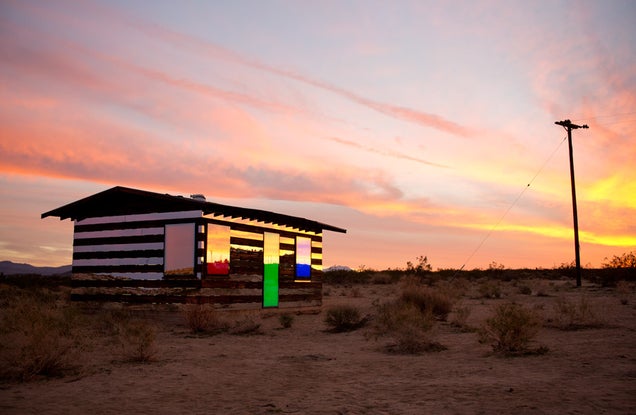 S
---