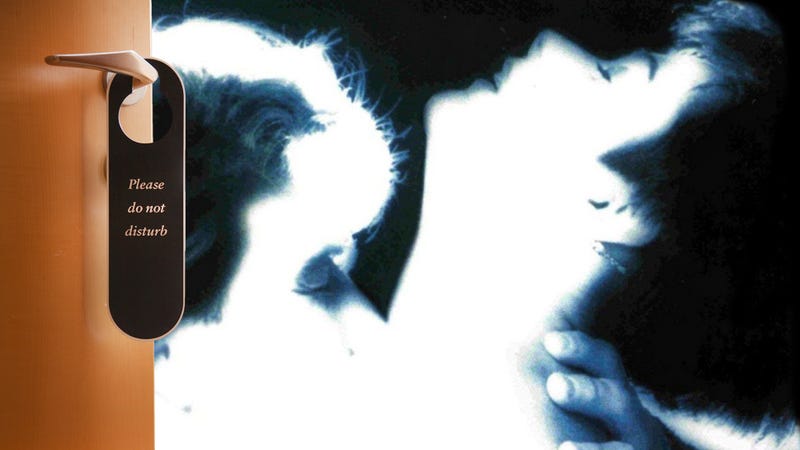 Do you remember your first time? With a ghost? This is embarrassing to admit, but I'm still an ectoplasmic virgin. I know, I'm 32 and I've never had a sexual encounter with a ghost. But it's not too late! Here are America's sexiest haunted hotels where you might get it on with a ghost.
The subject of ghost sex is actually quite controversial. Believers in the field of paranormal booty calls, maintain that love and sexual desire are the most powerful primal impulses that drive men and women and that these are forces not restricted by the laws of, like, you know, life and death. This guy knows what I'm talking about, Greg Ashford has chronicled his sexual encounters with ghosts over the years, beginning in 1967. The biggest problem is actually finding a ghost that's DTF. Well, we've got your back. Check out these haunted hotels where guests have reported paranormal paramours:
These are a few of our favorites:
Hotel Colorado (Glenwood Springs, CO)
There have been several ghost sightings at this historic hotel. Some male guests have reported a female ghost watches them while they sleep. Some ghosts just like to watch. Ask to stay in room 551.
Crescent Hotel & Spa (Eureka Springs, AR)
This charming Ozark hotel was originally used as a school for girls and later as a "fraudulent cancer hospital." Today this grand Victorian is widely-considered the most haunted hotel in America. Previous tenant, "Doctor" Norman Baker was said to have performed questionable medical techniques on both the living and the dead. There are many restless spirits here, including a sexy Irish stonemason who fell to his death in 1885.
The Battery Carriage House Inn (Charleston, SC)
This charming Charleston inn is home to several ghosts. A headless torso haunts Room 8. Some guests have reported he watches them while they sleep (not sure how he does that without a head) and he breathes quite heavily (on a side note, I've got an ex-boyfriend who also fits this profile). Lastly, Room 10 is home to a "gentleman ghost", so take that however you'd like.
Homestead (Hot Springs, VA)
Legend has it, a woman was set to marry at this inn, but at the last minute her groom-to-be got cold feet, left her before the ceremony and in response she took her own life. Staff members have reported seeing this bridal apparition roaming the resort.
Longfellows Wayside Inn (Sudbury, MA)
You know the story, American girl falls in love with a British guy. He promises to come back to America to marry her. He doesn't. She dies, single and alone after waiting over 40 years for him and subsequently becomes a ghost (there were also probably cats involved).
The Roosevelt (Hollywood, CA)
Montgomery Clift and Marilyn Monroe are two ghosts reported to wander the halls looking for an erotic ectoplasmic encounter. Ask for room 802.
The Queen Mary (Long Beach, CA)
The Queen Mary is considered to be one of the most haunted hotels in the U.S. due to the fact that it allegedly has a plethora of psychic "hot spots." Here's the rundown: The pool is reportedly haunted by the spirits of two women who drowned there in both the 1930s and 1960s; a woman in white haunts the Queen's Salon; and a man in a 1930s suit has been seen roaming around the First Class Suites.
Have you had a ghostly hook-up? Feel free to share in the comments! :)
---