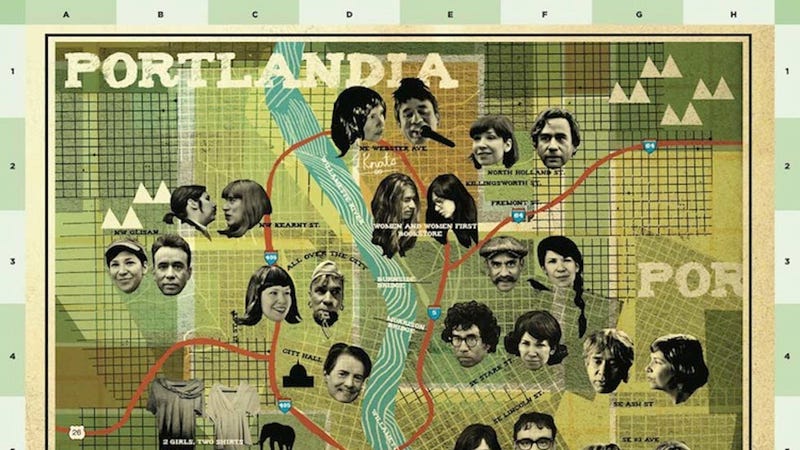 Season 4 doesn't arrive until early 2014, but the dream of Portlandia is alive in our hearts. 'Cacao' what you're doing right now and enjoy this list of essential Portlandia filming locations: from the finest library for competitive hide-and-seekers, to the savage brunch lines of Fisherman's Village, and more.
Eastbank Esplanade Bike Path
The show's fanfare for the common hipster, 'The Dream of 90s', gathers a full supply of the town's most lovable characters to celebrate the city where the "tattoo ink never runs dry." Most of the revelry takes place on the path of the Eastbank Esplanade, which operates as a bike and pedestrian path- although we'd like to believe the locals recreate this anthemic ritual on a daily basis.
Burnside Skatepark
Burnside Skatepark is one of the first locations featured in the Portlandia opening credits- a roller haven for those school-skipping board punks and anarchist literature collectives. Expect to see more of the same if you venture over here.
Filming location of Women and Women First (In Other Words Women's Center)
Women and Women First: home of Candace and Toni, or America's favorite book-selling feminists. In real life, the location is home to Portland's feminist community center, In Other Words. Hint: don't try to use their bathroom without buying something first.


Portland City Hall
It just wouldn't be Portlandia without the schemes of city's hapless Mayor (Kyle MacLachlan). Whether it's developing strategies for The Thinkers (Portland's first sports team), or Fred and Carrie composing the 'not-Seattle sounding' city anthem, it usually starts from starts from the mayor's office. This space happens to be the real City Hall building as well.
Irving Park
"Hey, down in front!" Irving Park serves as the show's outdoor movie destination for cinema (over)enthusiasts. Off the set, Irving Park serves as a recreation center for locals, who (we hope) are probably not the type to bring their food processors to the park's film nights.
Filming location of Artisan Knots (Paxton Gate)
One of many specialty shops on the show, Artisan Knots (not to be confused with The Doily Store) provides ornamentally-tied ropes and strings for every gifting occasion (lovingly selected by Jeff Goldblum). The real storefront, Paxton Gate, is a oddity and curiosity shop whose similarities to its fictional counterpart might surprise you.
PCC Library
You might be trying to find a book, but there's an even good chance you'll run into one of the Sherlock Holmies here. Portlandia's Library may serve as the battleground between adult hide-and-seek league rivals, but they also happen to have a pretty good collection of circulating materials on hand, as they are the school library for Portland Community College.
Olympic Provisions
Portlandia's second season put a new spin on the city's slacker ode by celebrating a different era of 90s- the 1890s. Olympic Provisions, the filming location of the music video's mutton-chopped meat hawkers, also happens to be a butcher shop and restaurant in real Portland as well.


Mint / 820
Don't even think about asking for a mere mojito here- the mixologist (played by Andy Samberg) of Mint knows what you need, not what you want. However, in real life don't expect a drink made out of ginger-infused bourbon, egg whites, and charred ice- the real Mint is a Pan American restaurant.
Zupan's
If you decide to do your grocery shopping here, make sure you bring your own bags. Portlandia's version of Zupan's serves as a caricature of an overly eco-conscious grocery store. While the non-fictional store also happens to be local co-op and gourmet market, they are far more kind to their customers.
Location of Fisherman's Porch (Good Neighbor Pizzeria)
You'd need to wake up pretty early if you desired a table at Portlandia's newest brunch hotspot. Luckily, Fisherman's Porch is actually Good Neighbor Pizzeria, and has a much more lenient line-waiting policy than the Porch's. Whether or not it can be reached by kayak is still being determined.
Filming Location of the Deuce Hotel (The Ace Hotel)
Complimentary typewriters, rooms with turntables, and celebrity sightings of indie darlings, Echo Echo- the Deuce Hotel has it all. The actual version of the lodging spot might be just as trendy, too- the Ace Hotel offers custom-made bicycle rentals, in-room Stumptown coffee, and locally-sourced breakfast for dining guests. Just don't expect to catch any live sets from Sparkle Pony, though.
All photos courtesy of: IFC's Portlandia and the book, Portlandia: A Guide for Visitors.
Christopher Maier is from Cincinnati, OH, and is a bigger fan of Squiggleman than he is of Echo Echo.