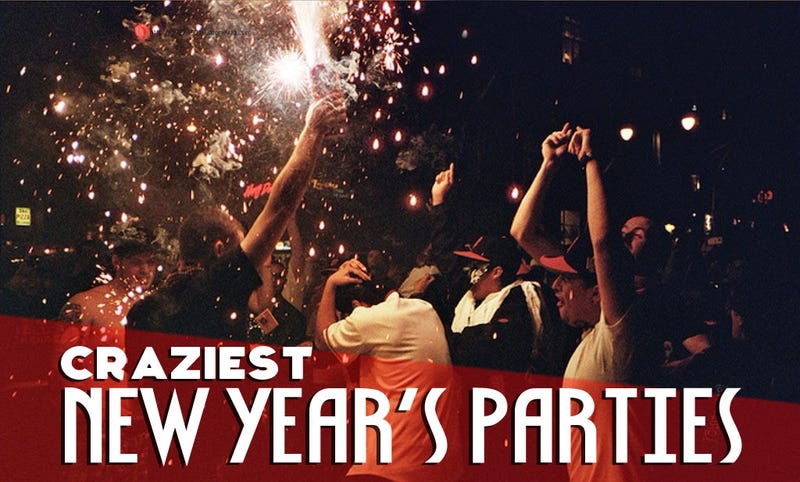 The clock is ticking down the hours until 2014, but you still don't have New Years plans? If you don't feel like being lulled to sleep by Ryan Seacrest, deck yourself out in some tribal war paint, put on your fanciest tux, or just come up with a really great alibi.. these parties are crazier than usual..
If dressing up all fancy and drinking champaign with your pinky out just isn't your thing, you'll love the "Tribal Disco Party" going down at LA's Acabar. With the World Beat Percussion Band providing a backing beat for a host of fire eaters and tribal dancers, this is guaranteed to be wildest, least culturally sensitive New Year's party on the west coast. Oh, and tribal dress is highly encouraged, so prepare to see a lot of white people in war paint. Hey, it wasn't my idea.
On the other hand, if you wish you could have been around to see the lavish parties of the Roaring 20's, The Rockwell's Gatsby New Year is where you'll want to be. You'll start the night enjoying a three-course prix fixe dinner, followed by a special edition of the acclaimed 'For the Record: Baz Luhrmann' live show (featuring music from his films, including The Great Gatsby), and finally, you'll ring in the New Year with a live jazz band and champagne. Pretty classy, old boy.
Like the beach? Love Elvis? How do you feel about rum? If all three of those things strike your fancy, head to Foreign Cinema's Sexy Tiki New Years Eve, where you'll drink more rum than a pirate and greet 2014 to the lazy sounds of the ukelele. Enjoy a four-course tropical inspired meal, and if you need a need a breather, Elvis' beach party flick Blue Hawaii will be playing in the courtyard all night long.
Don't worry, horror fans, we haven't forgotten about you. Chicago's Stage 773 is hosting a Monster Ball where you can ring in the New Year dressed up as your favorite fanged beast, rotting corpse, or axe murderer. Tickets grant you unlimited access to their speciality drink bar, loads of horrific appetizers, and the hosts promise "spooky surprises" all night long.
If you've got a tux, but don't have a date, you might be interested to know that Playboy's official 60th Anniversary New Year's bash is happening at the Hard Rock in Chicago. There's a top shelf cocktail reception, a Playboy treasure hunt (whatever that is), live entertainment, a confetti shower, and loads of scantily clad women with low self esteem. But hey, with VIP tickets at $2,000 a pop, you could always just go to Hooters instead.
Of all the places on this list, only one cares enough about you to actually serve up their anti-hangover secret when the party winds down, and that's Brooklyn's Radegast Hall & Biergarten. After warming up with a show by Professor Cunningham and His Old School Burlesque Performers from The Love Show, Radegast promises to get you "funked up" until 2AM, when they'll serve up their traditional "Anti Hangover Remedy Garlic Soup" to ensure you can actually enjoy the first day of 2014.
Craziest New Years Parties | Bucket list on Roadtrippers
---
Use Roadtrippers to plan your New Year's adventures... just call a cab home. Follow us on Twitter and Facebook.