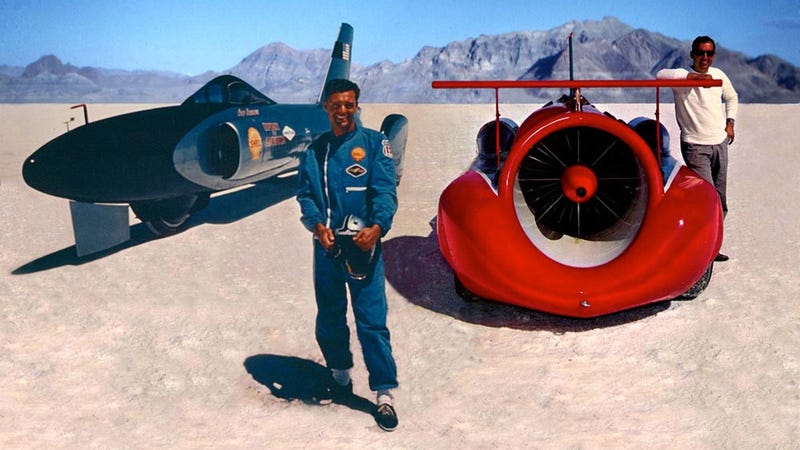 As long as people have been hot rodding, cops have been trying to squash the fun. When you were 16 it was probably a local cop writing you a ticket for doing a burnout. For Art Arfons it was the United States Military wanting to know how he got his hands on a top-secret jet engine. Damn G-Men.
Art Arfons was already making a name for himself as a race car builder and driver before his run-in with the government. His Green Monster: Cyclops set the land speed record for open cockpit vehicles at 330 MPH at Bonneville Salt Flats, a record still standing today. As you can see below, Art sat right in front of the intake, greatly limiting the car's speed potential.
What made Art Arfons a racing legend, however, was when he built a particular Green Monster using some highly sensitive parts. In 1963 Arfons received a call from a man in Florida offering to sell him a big jet engine… Arfons didn't bat an eye at purchasing a scrap 17,500hp GE J-79 engine for less than a thousand dollars.
When Arfons asked GE for the service manual they politely (or not so politely) told him the engine was secret and to screw off. GE then tattled on Arfons to the government who promptly appeared at his farm to ask a few questions. Arfons, however, had already repaired the engine without even having a service manual.
With a vaild bill of sale, the government backed off and went home. It can't be understated how impressive Arfon's natural mechanical ability was. This man, without a service manual, rebuilt a jet engine. In one final scare tactic, GE sent him a legal letter stating the J79 was never meant to be in a race car, but Arfons ignored the letter and saw what all great innovators see: opportunity.
Art Arfons continued his desire to go fast for many years after his GE/US Military/Jet Engine fiasco, posting speeds well into the 500s at Bonneville during his legendary speed wars with Craig Breedlove. Like all great gearheads, he also dabbled in applying horsepower on the water and even tractor pulling. Legend has it when he died in 2007 he was buried with some Bonneville salt, a wrench, and the J79 engine manual.
The Green Monster (rebuilt after a nasty accident) with the infamous J79 engine found its way onto Ebay a few years ago... Word is you can see her today at the Petersen Automotive Museum.