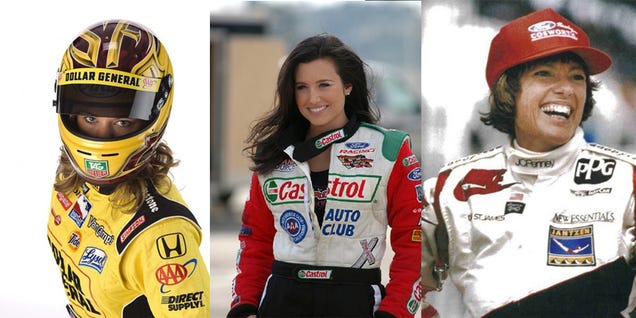 This weekend we all take a moment to thank the women that gave us life and at least half of our weird, bizarre traits and quirks. Despite motor sports being a mostly boys club, hundreds of women have raced with the boys or took positions of power. A few even found time to make a baby or two, so today we salute you, the greatest moms of modern motorsports...
Sarah Fisher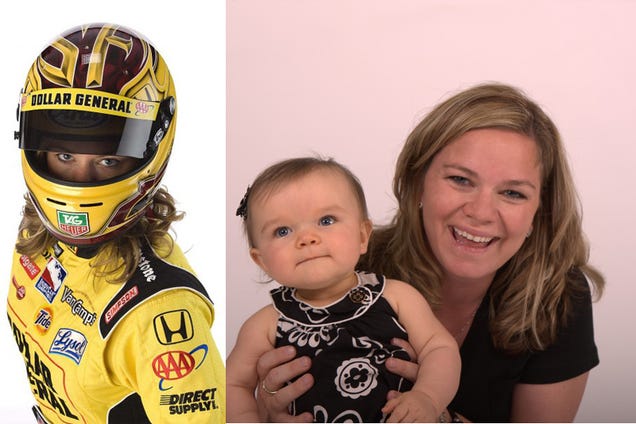 At 19, Sarah Fisher became the youngest woman ever to qualify for the Indianapolis 500, and after compiling the most Indianapolis 500 starts of any woman in history, Fisher struck out as a team owner in the IZOD IndyCar Series. Today she cares for not only a successful race team but also a 2 1/2 year-old little girl named Zoey.
Ashley Force Hood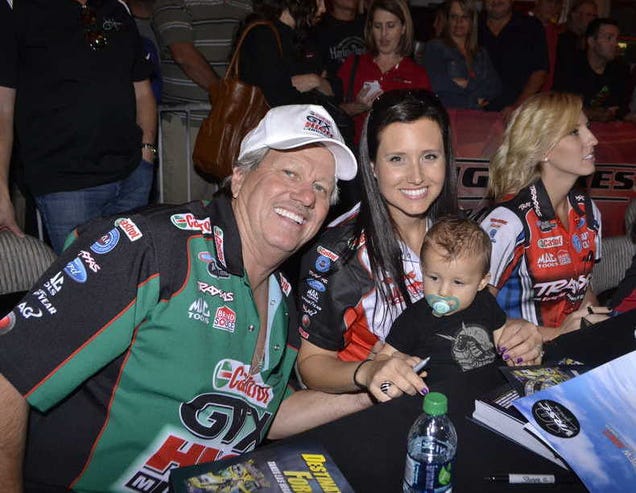 John Force's two youngest daughters get a whole lot of attention these days, but it was Ashley Force Hood that first took to the quarter-mile. Ashley was the first female to ever win an NHRA funny car event in 2008, but eventually Ashley Force Hood took a break from the cockpit to prepare and welcome her first child, Jacob John Hood. Today she runs John Force Entertainment, but we're sure her drag racing career isn't quite over yet… Just this spring she renewed her NHRA license in her sister Courtney's car. Everyone knows you can't get that nitro out of your blood.
Lyn St. James
Lyn St. James was the first-ever female rookie-of-the-year when she took on the Indy 500 in 1992 and set so many "firsts" for women in racing it would take several pages to tell you all of them. Today she works with a non-profit she started, Women in the Winner's Circle Foundation, and several other groups to promote women in motor sports. Happy Mothers Day to Lyn, mother of Lindsay Lessman.
Lesa France Kennedy
You probably at least recognize the "France" maiden name. That's right, Lesa is Bill France Jr.'s daughter and basically the queen of NASCAR. She sits on the NASCAR board of directors and is CEO of the International Speedway Corporation which includes tracks like Daytona, Darlington, and Talladega. She's also a mama to a NASCAR driver Ben Kennedy.
Mari Hulman George
If Lesa Kennedy is queen of NASCAR, Mari Hulman George is without a doubt the queen of IndyCar. As chairman of the Indianapolis Motor Speedway we've all heard her give the famous words, "Ladies and gentlemen, start your engines!" Of course, she's the mother of Tony George, the man known so well for the epic IndyCar/CART split.
Of course, there are dozens and dozens of others. Not to mention all the mothers that stood by their children when they came home and said, "Mom, I want to risk my life driving race cars." Think if Richard Petty's mom Elizabeth had told Lee, "No way. He's not going to be a racer like his old man." We would have missed out on the King…
Which motorsports mamas would be in your top 5?
Photo Credits: IMS
Follow Austin Coop on Twitter and check out Roadtrippers Rides for everything from haunted cars that kill to the coolest rides hitting the auction block.