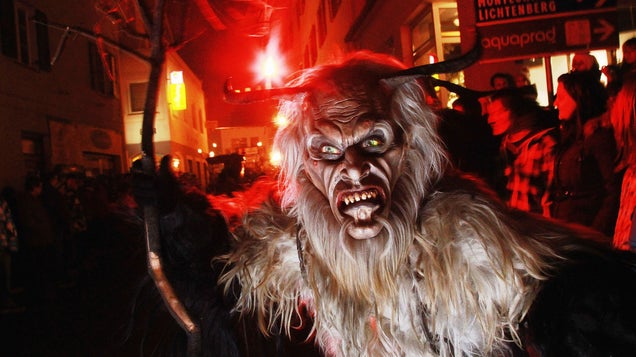 S
We're all familiar with the bearded guy who gives us presents on Christmas, but in plenty of other countries, misbehaving kids have something more than lumps of coal to fear.. namely, demonic child-eating monsters.. and now they're invading America.
The story of Krampus is a simple one; in Austria, Northern Italy, and other parts of Europe, old Saint Nicholas isn't tasked with punishing poorly-behaved children, his devilish counterpart is. On Christmas Eve, Krampus and his demonic minions climb from the depths of hell to teach bad kids a lesson, usually in the form of severe beatings with whips and chains. Sometimes he'll drown, or even eat, the worst of the bunch.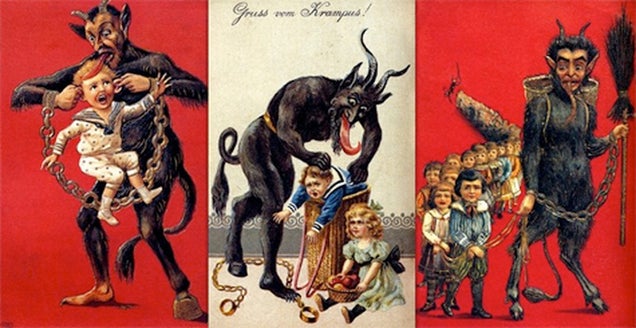 S
For the adults, the real fun of embracing Krampus comes in the form of Krampuslauf - a festival where everyone gets really drunk, dresses up like a satanic monster, and then runs around town scaring kids... and it's encouraged.
If that sounds more preferable to you than dressing up like an old pervert and inviting children to sit on your lap, then I've got good news - Krampuslauf is gaining a lot of proponents on this side of the globe.
Strap on the horns and break out the booze.. it's time to scar some children.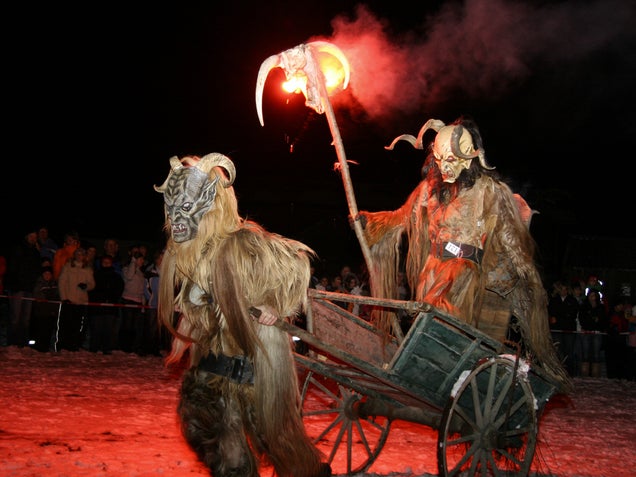 S
The idea to host a traditional Krampuslauf event in downtown Philadelphia didn't spring from the mind of a horror movie maniac.. it was organized by Amber Dorko Stooper, a mother of two.

"Spooky and scary has had a place in Christmas historically — A Christmas Carol is a ghost story with scary things in it," Stooper told NPR. "I hate to see everything get watered down because I remember how much fun those things are."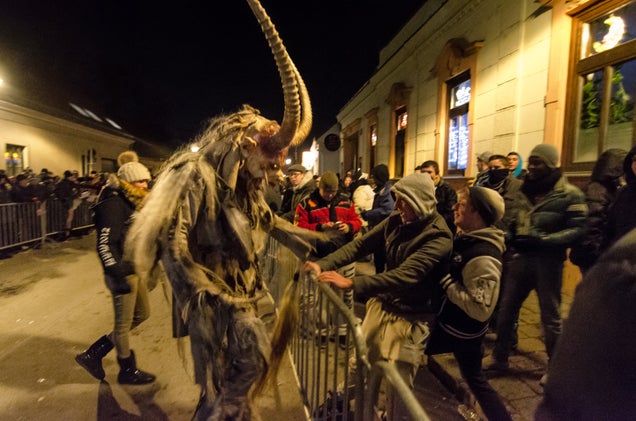 S
Thanks to Stooper, this weekend Philly's Krampus parade will move into it's third year of celebrating the creepier side of Christmas. To join the festivities, head to LIBERTY LANDS PARK on SATURDAY DECEMBER 14. The parade starts at 4:30PM, and Stooper warns that if you want to stay warm, you should dress as Krampus.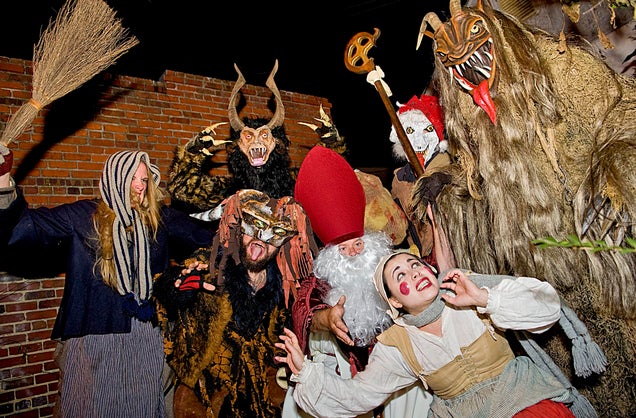 S
Instead of a parade, Atlanta gets even more creative with their Krampus celebrations, offering an irreverent play titled "Krampus is Coming #hideyourkids". They're serious about the kid thing too.. this rock and roll play is a gore-filled holiday event for adults only.
Shows start Thursday, December 19th at 9:00PM at the 7 Stages Theater in Atlanta.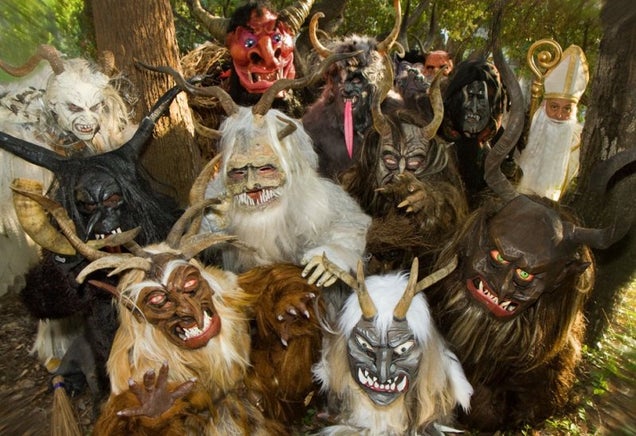 SWhile other cities have started to dip their toes into old Krampus traditions, leave it to LA to fully embrace Santa's devilish counterpart with an entire month of events. This Thursday is the main event - the first traditional Krampus walk in the Western United States!
The public Krampus run or walk – Krampuslauf – is part of a centuries-old tradition, and Krampus LA organizers respect and adhere to that working model. At these events, Krampuses take to the streets or other public areas waving switches, rattling chains and bells and otherwise playfully menacing onlookers with the threat of "punishment" for the "sins" of the previous year.
It's L.A., so those Krampuses should have their hands claws pretty full.
---