On March 6th Global Caravan Technologies unveiled the CR-1 trailer prototype, the first all-carbon fiber travel trailer in the world. It's big, black, and badass to say the least. Take a virtual walk-around of the CR-1...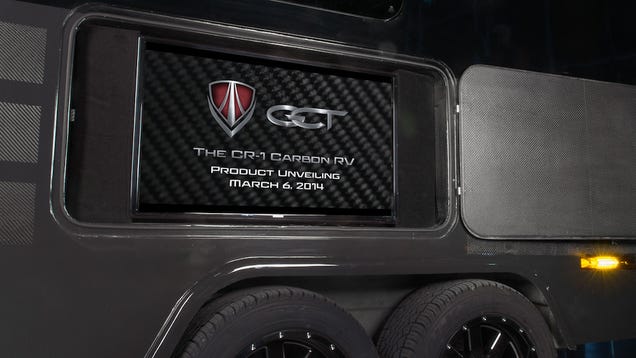 Unveiled at the Dallara IndyCar Factory in Speedway, IN and weighing half as much as a conventional trailer, the CR-1 is the result of collaboration between former IndyCar engineers, Purdue University, aerospace engineers, and even the Chinese.
GCT describes the CR-1:
Style and craftsmanship are blended uniquely together in the CR-1 Carbon to pave way for unprecedented luxury standards and options, making camping more glamorous. The CR-1 Carbon is the first of many planned products in the CR-Series, and is one of the more premium offerings for super-luxury towables by GCT. Customers can take a step even further into super-luxury by selecting a custom build, or as a more practical option the CR-1 Luxury will blend carbon fiber content with full-time camping in mind.
Standard on CR-1:
All-carbon fiber construction for massive weight reduction and strength gain
Bonded structure provides moisture block and superior product lifespan
Custom luxury automotive designed exterior lighting
Carbon fiber entry door and exterior doors with marine hardware
High-design interior fusing leather and carbon fiber styling in impeccable luxury
Large rear entertainment/lounge area doubles as workstation
Walk-through master bath with custom features
Flush-body design for enhanced towing, better clearance and maneuverability
CR-1 Carbon Options:
Smart control iOS/Android/PC software platform manages all system control functions
Smart control adjustable-tint privacy glass in front, rear, and bedroom ceiling
Up to 700W equivalent solar system with 300AH 5-year warranty AGM batteries
Integrated generator
Washer and dryer
Run-flat tires for improved highway towing safety
Second awning on off-door side of unit
Satellite TV and wi-fi router
And just how much will this level of carbon badass-ness cost? Estimates say the CR-1 will start at a cool $100k and range all the way up to $500K. Check out GCT for more information.
Whether you have a half a million dollar RV or an old $1,000 trailer, you can still see the most amazing places in America, our national parks: