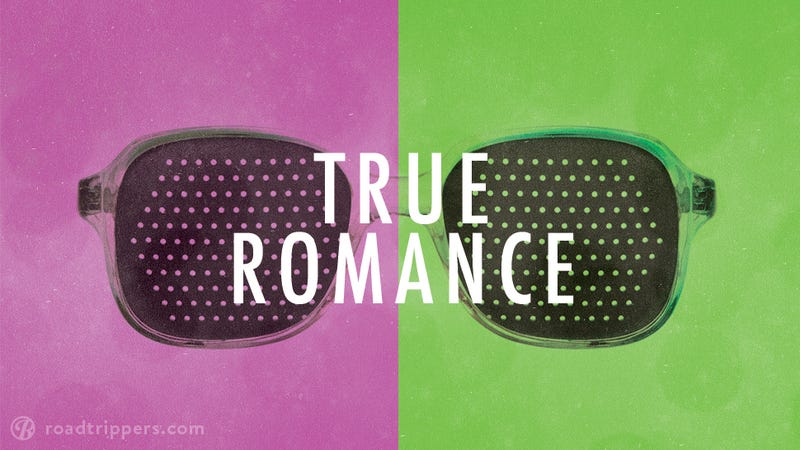 You know the story. Boy meets girl. Boy and girl fall in love. Boy kills girl's white Rastafarian pimp and steals all his cocaine. Romance, melodrama, crime, violence, dark comedy, pulp, satire, action, you'd be hard-pressed to find a film that combines these thematic elements better than True Romance. To honor the film's 20th anniversary, here's how you can take a True Romance road trip.
The film stars an insanely-rad cast: Christian Slater as "Clarence" and Patricia Arquette as "Alabama", supported by Dennis Hopper, Val Kilmer, Gary Oldman, Brad Pitt, and Christopher Walken. It opens in Detroit, which pretty much looks the same now as it did in 1993.
Clarence and Alabama first meet at the Sonny Chiba Street Fighter triple bill. Though set in Detroit, the theater where it was filmed was actually the Vista Theater in Los Angeles. After their date they go to eat pie at Rae's Restaurant, which is in Santa Monica. Clarence and Alabama get married at the Wayne County Building, on 600 Randolph Street.
The happy couple then go to tell Dennis Hopper plays Clarence's dad (played by Dennis Hopper) the good news. There were a few iconic shots filmed at his home along the Detroit River. The police building is located at 1300 Beaubien Street. Hopper worked at the (now abandoned) Packard Plant.
The roller-coaster where Elliot (AKA Balki Bartokomous) gets sick is the Viper, at Six Flags Magic Mountain.
My ultimate favorite location from True Romance, is the incredibly-kitsch, and ridiculously-cool Safari Inn Motel, where Clarence and Alabama hide out while in L.A. This is where Alabama gets her ass gloriously kicked by the amazing James Gandolfini.
Finally, the crazy-ass fight scene at the end of the film takes place at "producer" Lee Donowitz's suite at the fictional "Beverly Ambassador Hotel." Though demolished, it was located where the now-torn down Ambassador Hotel once stood at 3400 Wilshire Boulevard.
While, yes, Tony Scott's True Romance definitely pays homage (i.e. rips off) both the detached voiceover narrative and musical stylings of Terence Malick's Badlands, (I mean, c'mon, Patricia Arquette and Sissy Spacek are pretty much both "Blanche DuBois" anyhow), his dark love letter to modern American romance still rocks on so many levels. It's one of those rare films that ages gracefully.
---
Check out the Roadtrippers' Film Spotting Guide for all the coolest filming locations in the US. Hit us up on Twitter and Facebook.