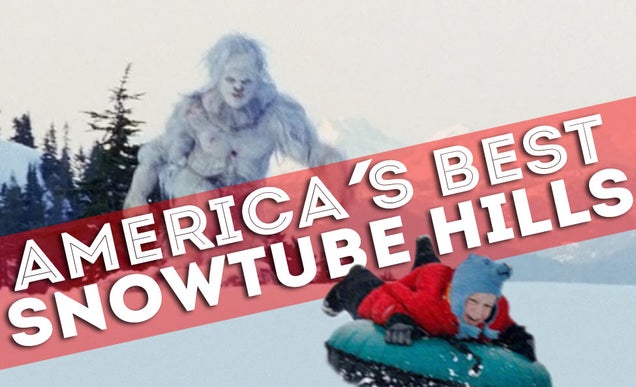 S
Snow is finally falling where it should be, and that means it's time to speed down dangerously steep hills on inflatable donuts. From disco-sledding to encounters with a Yeti (video evidence included), this list covers the best snowtubing slopes in America.
Keystone Ski Area [CO]:
Located in Colorado's White River National Forest, the Keystone Ski Area offers some of the best snow-tubing in America. The best part? Disco Tubing. Seriously.
Cooper Mountain [CO]:
Since 1997, Cooper Mountain has been offering Colorado residents finely powdered slopes reserved for inflatable tubes. As if soaring the fresh powder wasn't enough, when you're finished you can soothe your sore back in their spa.
Stone Mountain State Park [GA]: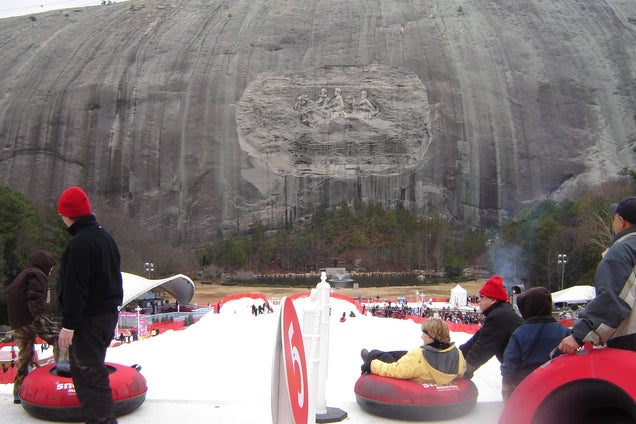 S
This Georgia park is a staple when it comes to winter sledding. Through the months of November to February, Stone Mountain opens up "Avalanche Alley", a specially designed, first-of-its-kind track with tubes big enough to fit an entire family. Now you can all get hurt at once!
Clingman's Dome [TN]:
If you're up for a walk, there's no better place to drag the sled in Tennessee than Clingman's Dome, after all, it's the highest point in the Great Smoky Mountains National Park. You'll want to bring your snowshoes, because although Clingman's Dome remains open throughout the winter, the paved road leading to the top is closed off as of December first each year.
Oh yeah, and it's the tubing hill where you're most likely to run into Sasquatch:


Woodbury Ski Area [CT]:
Connecticut's Woodbury Ski Area, or "Rod's" as the locals know it, is the closest large-scale tubing park to New York City, and more than worth the trip... even in the summer. They've figured out how to use their stellar hills to tube, even without snow!
Wintergreen Resort [VA]:
Spanning 11,000 acres on the Blue Ridge Mountains, Virginia's Wintergreen Resort is the largest tubing park in the entire state. Their prize hill is nicknamed The Plunge, spanning three football fields in length, sending your tube over 30 miles per hour.
Mad River Mountain [OH]:
Mad River Mountain is Ohio's largest ski resort, but for those of us who'd prefer to go flying down hills on our butts, they've got a special treat: The Avalanche - a one thousand foot long hill of greased lightning.
Timberlee Hills [MI]:
If you're looking get your tubing on in Michigan, head to Timberlee Hills, the largest dedicated sledding hill in the state. Want to ride with a friend? Grab a tandem-tube and hit the slopes. With their awesome handletow system, you'll enjoy the slow ride up the hill just as much as you enjoy the quick ride down.
Rock Canyon Park [UT]:
Think tubing at resorts is lame? At this legendary sledding hill in Utah, you're free to build all the ridiculously unsafe ramps your heart desires, free from the tyranny of skiing instructors. You will probably get hurt, but it will be so worth it.
Heavenly Mountain Resort [CA]:
Don't worry West Coasters, this Lake Tahoe resort has you covered. With a peak elevation of 10,040 feet, Heavenly Mountain stands the tallest of all the area ski resorts, living up to its name. If you're curious about their tubing runs, these words should suffice: sixty-five foot vertical drop. Gnarly.
Bonus - Worst Sledding Town
Paxton, Illinois: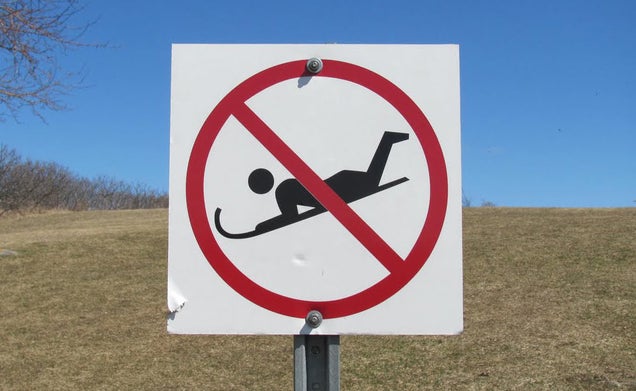 S
Now that you know some of the greatest places in the United States of Tubing, meet the absolute worst - Paxton, Illinois. Earlier this year, the overwhelmingly flat city of Paxton purposely destroyed it's only sledding hill. Why? Because their insurance company told them that they hated the sight of children having fun.
"The insurance would have skyrocketed if someone was hurt," a parks board member told The Champaign News-Gazette. "I can imagine that the first couple of times it snows, they'll think about the hill and come out and see it's not there and be disappointed," the recreation director said, "but I'm hoping within a couple of years it will be forgotten."
What a bunch of jerks.
---