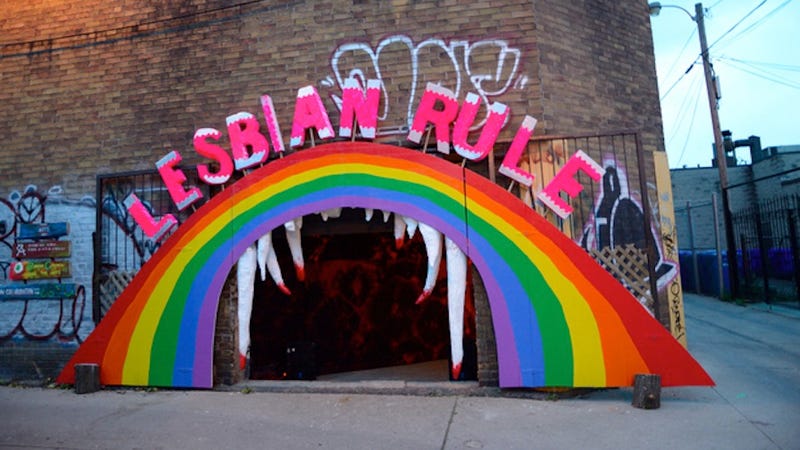 Imagine Willy Wonka's psychedelic boat ride, but for lesbian feminists. October 17th marks the opening of Kill Joy's Kastle, the stillborn brainchild of Toronto-based artist Allyson Mitchell. Beware the "gender-queer apparitions, ball-busting butches, and never-married, happy-as hell spinsters."
Kill Joy's Kastle is a "crowd-sourced, lesbian-feminist, queer-fear-fighting celebration." Mitchell argues that her "Lesbian Feminist Haunted House" is reclaiming Halloween from radical evangelical groups who, since the 1970s, have used haunted houses with the intent to showcase "gruesome retribution for the sins of fornication, abortion, suicide, occultism" and same-sex relationships.
Rug-hooked, crocheted, and paper maché'd constructions are womb-like wonders for visitations of the undead lesbian community, who are hell-bent on remaining nightmarishly non-assimilated. Casting the spells of freaky feminist skill sharing and paranormal consciousness raising together with ghouls, bio-engineered monsters, indoctrinators, and avengers, this hell house is designed to pervert, not convert.
The haunted house offers guided tours through its "immersive art installation." Open daily from 4-8 (or by appointment). The haunted house was proudly "nailed, knit, and glued by a coven of dedicated feminists." Visit it, if you dare...
[Feminine Moments via Buzzfeed Travel]
---
Check out the Roadtrippers' United States of Horror for all the scariest shit across the US. Hit us up on Twitter and Facebook.